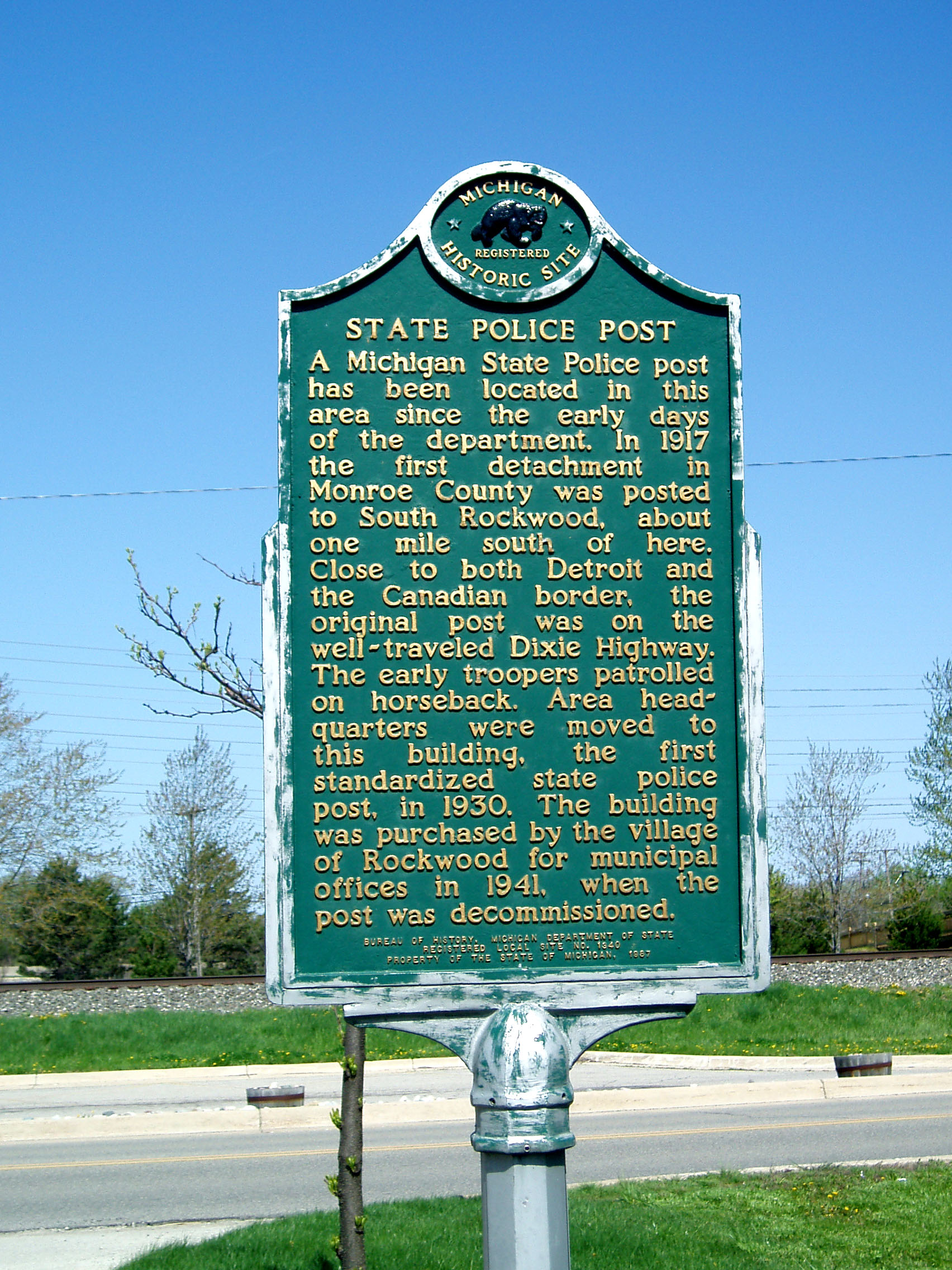 First Standardized State Police Post in Michigan
Informational Designation
32409 Fort Street, Rockwood
In both the first and second World Wars, many states established quasi-military units to provide personnel were there some troubling incident to occur within the state.  I believe that these units were staffed primarily by men with patriotic spirits who were too old for the draft or otherwise unable to serve in the regular Armed Forces.  They were, I believe, provided with a minimum of military training but were on call if there was an emergency.
On April 19, 1917, Michigan Governor Albert Sleeper established what was known as the Michigan State Troops Permanent Force or the Michigan State Constabulary.  Five troops of 60 men each were established; some mounted, some motorized and some dismounted.  They were to provide additional security for the state were it needed.  One of the five troops was headquartered here in Rockwood, not far from the Canadian border.  I have read they began by patrolling on horseback.  If there were saboteurs entering the United States, it is possible that they would have tried to seriptitiously cross the Detroit River near this location.  Perhaps they would be detected by the Michigan State Constabulary.
Once a governmental organization establishes a bureaucracy, they tend to persist.  The Michigan Legislature, in 1919, passed Public Act #26 transforming the Michigan State Constabulary into the Michigan State Police.  State voters, in the early 1960s, called for a constitutional convention.  The state constitution mandates that voter approve or reject the idea of a constitutional convention every twenty years.  The new state constitution that was ratified in 1965 established twenty agencies of government.  One of the twenty was the Michigan State Police.
Around the time of the First World War, local policing in Michigan underwent a substantial change.  The widespread use of vehicles for criminal activities meant that beat patrol persons were much less likely to apprehend miscreants and felons.  Additionally, a criminal in a car could quick travel through many jurisdictions.  Thus, the police had to give up their beat patrols and horses in favor of fast cars.  The state police became more important because of the ease of traveling from one area to another.
The Eighteenth Amendment, banning the production, sale or consumption of alcoholic beverages except for religious and medicinal purchases, went into effect on January 19, 1919.  This was a federal law but the federal government's enforcement agencies put pressure on local polices forces to assist in enforcement.  This was not always easy to accomplish since, in many cities, most officers and their supervisors shared cultures that did not condemn alcoholic beverages.  Detroit was, arguably, the nation's largest port of entry for spiritous liquors during prohibition.  In Detroit, and most other cities, there was a widely shared belief that some or many "rum runners" found it easy to make generous financial contributions to police officers who would take a very lax view of enforcing the Eighteenth Amendment.  I know of no book summarizing how local police agencies did or did not corporate with federal agencies in the Prohibition era.
Vehicles were the favorite mode for transporting alcoholic spirits from Detroit to places through the west.  Thus, the Michigan State Police faced the challenge of cooperating with federal officials, from time to time, in catching "rum runners."
The first building to serve specifically as a Michigan State Police Post was erected near this site in 1919.  In 1941, the structure was sold to the village of Rockwood to serve as a municipal office structure.  At some later time, the building was razed.  So far as I know, there is no book summarizing the century long history of the Michigan State Police.
National Register of Historic Places: Not listed
State of Michigan Registry of Historic Sites: Listed September 16, 1986
State of Michigan Historic Marker: Put in place May 29, 1987
Use in 2008:  Historical Marker. 
Photograph: Ren Farley; May 4, 2008
Description prepared: January, 2017
Return to Governmental Buildings