Flynn Pavilion
Near the intersection of Picnic Way and Loiter Way on the shores of
Lake Tacoma on Belle Isle in the Detroit River
Attractive Belle Isle has about two and one half miles of canals and lakes where visitors might travel by boat or skate during the winter when the ice is sufficiently strong. In 1949, the Flynn Pavilion was opened as a location for the rental of boats and skates. The structure includes a large dock fronting on Lake Tacoma. At some point during Detroit's many financially lean years—in late 1980s, I think—the Flynn Pavilion was closed. Lowell Boileau—on his website www.Detroityes.com—observes that this appealing structure designed by one of the era's most innovative architects, Eliel Saarinen, was sliding into decay. For a brief span, a private entrepreneur rented the Flynn Pavilion and ran it as a music venue known as Bert's Place. There is a large interior room that might be suitable for use as a restaurant, bar or small music hall.
In 2002, Mayor Kwame Kilpatrick announced that Detroit obtained $490,000 from the National Park Service's urban parks program for the restoration of the Flynn Pavilion. The city appropriated another $210,000. By the end of 2006, the structure was restored to its original glory and, in the spring of 2007, it was once again possible to rent boats here to travel Belle Isle's waterways.
Eliel Saarinen was an accomplished Finnish architect who migrated to the United States in 1923 after he distinguished himself with a design for the impressive building that is home to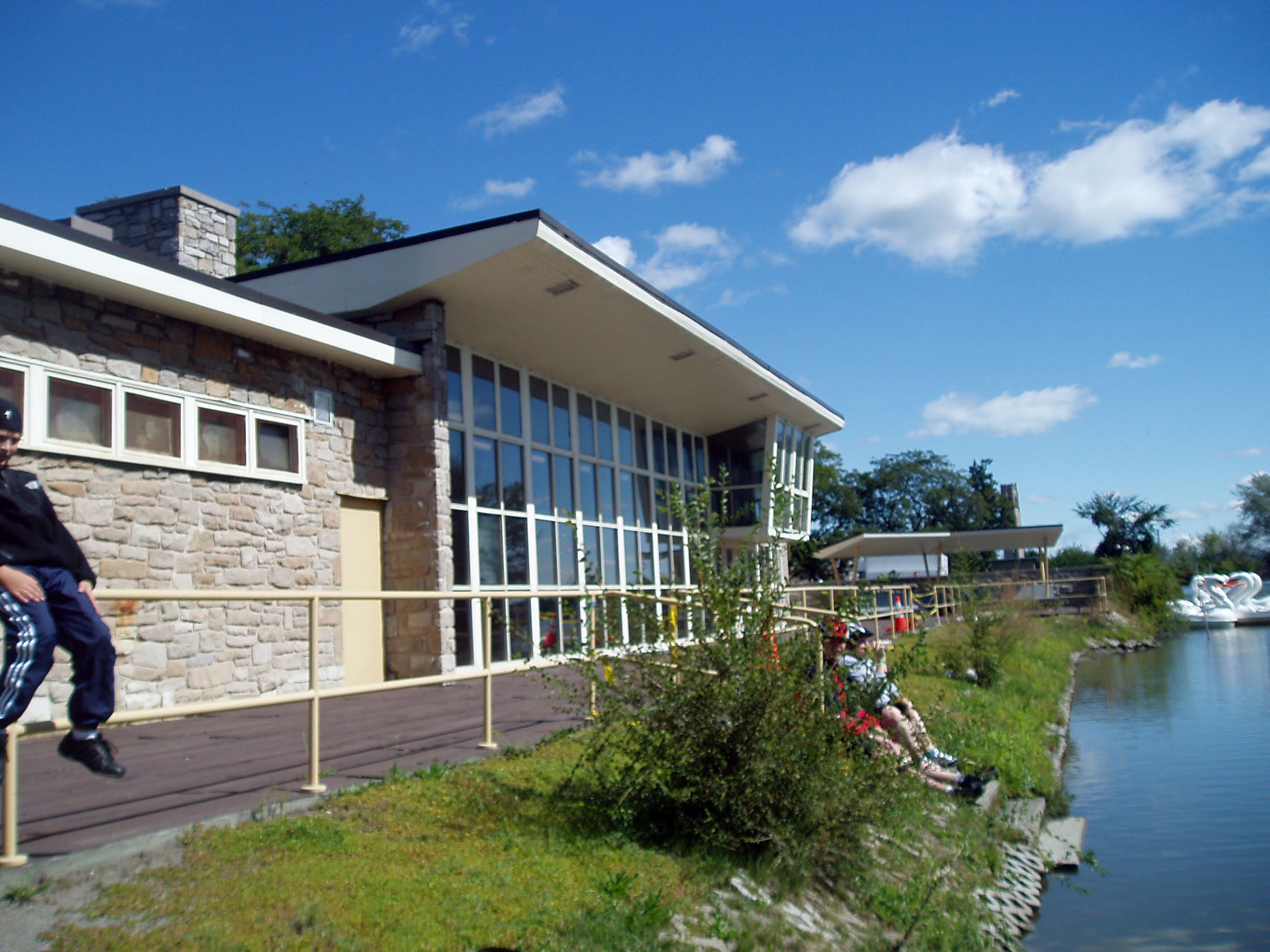 the Chicago Tribune. He began teaching at the University of Michigan in 1924, and a year later, was selected as the lead architect for the Cranbrook Educational Community. In 1932 he became president of the Cranbrook Academy of Art.
Eliel Saarinen's son. Eero, born in 1910 in Finland, accompanied his family to the United States in 1923. He grew up near Cranbrook and then earned his degree in architecture from Yale University in 1934. He began his own practice, but devoted considerable effort to the design of furniture while working with his father's associates, Ray and Charles Eames. I believe that the building you see was one of the earlier ones designed by Eero Saarinen, but his reputation grew rapidly. In 1950, his father died so Eero established his own firm while collaborating with his father's associates. In 1954, Eero Saarinen married Aline Bernstein who was the art critic for the New York Times. She effectively promoted his career.
Eero Saarinen designed a number of widely known structures, including the Gateway Arch in St. Louis, the extremely graceful but difficult to appreciate TWA terminal at New York's Idlewild Airport, Dulles International Airport in Washington, the Vivian Beaumont Theater in New York's Lincoln Center, United States embassies in London and Oslo, the General Motor's Technical Center in Warren, Michigan and the School of Music at the University of Michigan. My wife earned her degree at the University of Pennsylvania and had the pleasure of living in Hill College House, a women's dormitory designed by Eero Saarinen. This was an innovative building in that Saarinen designed suites for the residents rather than the cell-like cubbyholes most of us lived in while attending college. At that time, there was strict gender segregation in college dormitories. Just to make sure that everyone was clear about this concept, Saarinen added a symbolic drawbridge that might be raised to keep men out of the women's dormitory. My wife says the drawbridge was never raised while she attended the University of Pennsylvania.
Date of Construction: 1949
Architect: Eero Saarinen
Date of Renovation: 2004-2006
Use in 2007: Recreational shelter and boat rental location for Belle Isle
Website devoted to designs of Eero Saarinen: http://www.eerosaarinen.net
City of Detroit Designated Historic District: Not listed
State of Michigan Registry of Historic Sites: The Flynn Pavilion is
Located on Belle Isle which is a State of Michigan Historic District;
P25,046 listed September 10, 1979.
National Register of Historic Places: Belle Isle, where the Flynn Pavilion is located is a registered historic district: #74000999,
listed April 25, 1974.
Photograph: Ren Farley, September 15, 2007
Description prepared: February, 2008
Return to Parks and Recreation