Naval Air Station, Grosse Ile
Located in the triangular southern tip of Grosse Ile south of Groh Road
So far as I know, only two presidents of the United States have lived in the city of Detroit or the Detroit metropolitan area. This former Naval Air Station is included in this website primarily because George Herbert Walker Bush was assigned to this base for about two months in the spring of 1945. He lived in Trenton when he served here, but I do not know his addre
ss.
A small landing strip was laid out at the southern end of Grosse Ile in the 1920s. In 1927, the state of Michigan purchased five adjoining acres for $100,000 to serve as a seaplane base. In that decade there was an awareness of the growing importance of aircraft for military purposes so the Navy experimented with various developments. I infer that there were Naval reservists in Detroit at this time that flew their own planes and encouraged the Navy to develop an airbase near the city. On September 7, 1929, the Navy established a Naval Reserve Aviation base at the site you see pictured above. It was staffed with eight officers, about 30 enlisted Navy men and three planes.
In the mid 1930s, there was some interest in increasing the country's ability to wage an air war, but there were no immediate threats to the security of the nation and, because of the Depression, few federal dollars were allocated to the military. The Grosse Ile Naval Air Station grew but very slowly during the Depression decade.
By 1940, it was apparent that wars were raging in both Europe and Asia and that the United States might become involved. It was also becoming clear that aircraft would likely play a larger role than in any previous war. Thus resources were devoted to building up the nation's military air capability. In 1941, the Grosse Ile Naval Station was assigned the role of providing elementary training for pilots, especially for pilots from the Royal Air Force who then went on to Pensacola, Florida for advanced training. Obviously, it was safer for British pilots to train in peaceful Michigan than in England where the Luftwaffe always posed a threat. The size of this base was increased to its maximum of 604 acres in 1942. During World War II, as many as 3,000 men were assigned to this post straining, I presume, the resourses of Grosse Ile and this small base. I imagine a substantial number of civilians were also employed at the base, reminding us of how very much Detroit truly was the Arsenal of Democracy. Two older Great Lakes boats were cut down to resemble air craft carriers so that student pilots could practice landing on something resembling an ocean craft.
With the end of World War II, the Naval Air Station ceased its role as a major location for introductory training pilots and became a site for the Naval Air Reserve. It was quite active for many years, since Navy pilots were busy in the 1950s and 1960s with wars in Korea and French Indo China, as well as roles supporting the Berlin Air Lift and the creation of the DEW line and other defense systems in the far north to protect us from Russian missiles. Navy jets landed at Grosse Ile beginning in 1961, but the small size of the base and its very short runways probably limited its usefulness in an era when planes were larger, more powerful and traveled much more rapidly. In 1964, the Department of Defense announced that the Grosse Ile Naval Air Station would be closed in 1967. They extended the life of the Station for two years, and then in 1969, turned the property over to Grosse Ile Township. It now houses township administrative buildings and a small airport. The website listed below provides extensive information about the Navy's use
of this Naval Air Station.
Who was the other president to enjoy the amenities of a residence in Detroit? Ulysses S. Grant was assigned to serve as a lieutenant at Fort Wayne from 1849 to 1851. He lived at a home located on West Fort Street near the intersection with Livernois. The Grant Home has been preserved as an historical site and is now located on the Michigan Fair Grounds in Detroit. It is not clear that President Grant enjoyed or benefited from his service as an officer at Fort Wayne. His superiors did not esteem his work so he was reassigned to an undesirable appointment at Sackets Harbor, New York after serving in Detroit. Shortly thereafter he was sent to an even more remote post in California but there he was found to be inebriated while on duty. Given the choice of resigning or a court martial. he resigned and returned to work as a clerk in his brother's grocery store in St. Louis. Fortunately, he had an opportunity to redeem his reputation by preserving the Union in the Civil War and then served two terms as Pre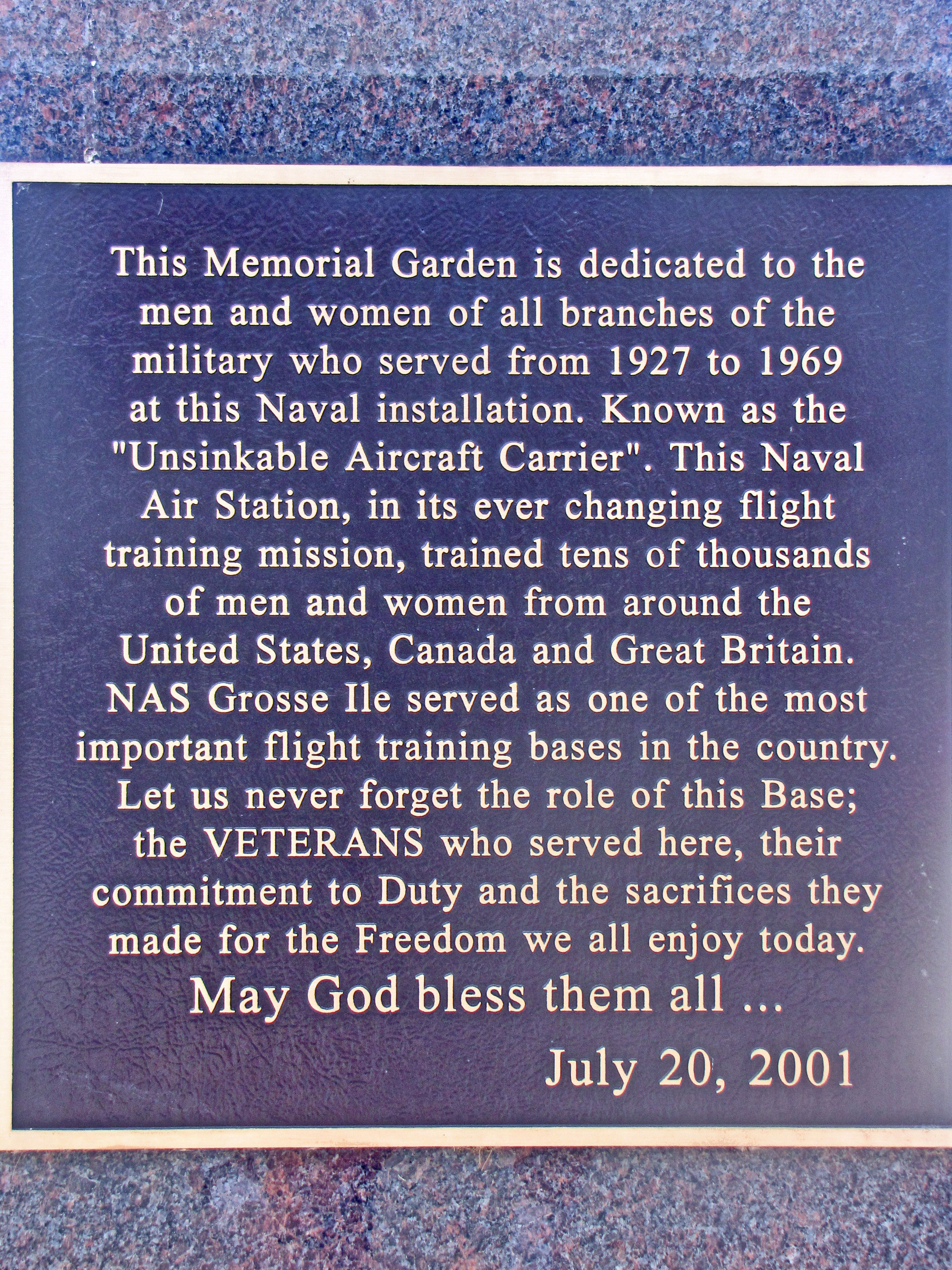 sident.
State of Michigan Registry of Historic Sites: Not listed
National Register of Historic Sites: Not Listed
Use in 2009: Grosse Ile Airport
Website for the history of this Naval Air Station: http://nasgi.org/index.html
Photograph: Ren Farley; August 3, 2009
Description prepared: August, 2009