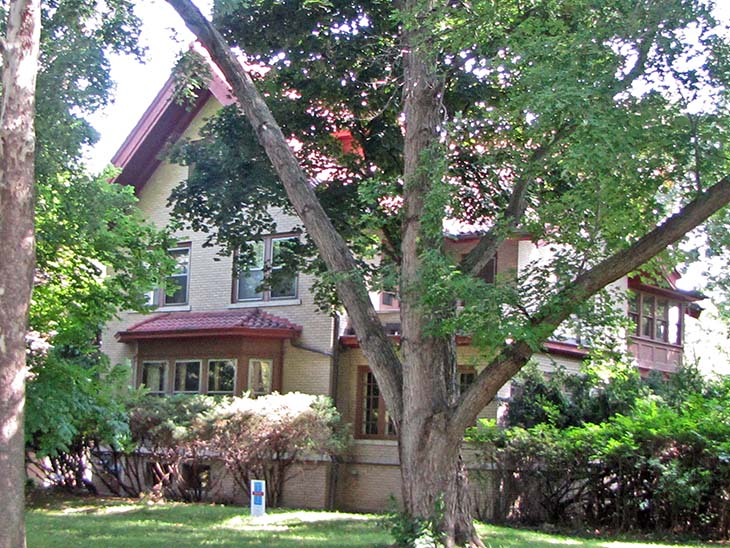 Robert Craig Hupp Residence
1516 Iroquois Avenue in the Indian Village Historic District

Robert Hupp was born in Grand Rapids in 1877.  In 1902, he took his first job in the auto industry working for Ransom E. Olds, apparently as an engineer.  In 1906 he went to work for the Ford Company and then worked for Regal.  This was a Detroit firm that produced gasoline-powered cars from 1907 until World War I. I believe they assembled their cars at a plant located near the intersection of Woodward and Piquette. Robert Hupp has the distinction of helping to establish three auto firms, one of them a curious but innovative auto firm that survived for thirty years.  That firm could claim distinguished achievements, although they came long after Mr. Hupp built this fine home on Iroquois in Indian Village and left the company he created.  When you discuss the history of the auto industry in Detroit, Hupmobiles get a great deal of attention since the firm had an usual history and did not slip into its grave the way most small car companies did when their sales plummeted and they ran out of capital.

In 1908, Robert Hupp, his brother Louis Graham Hupp and a lawyer, J. Walter Drake, decided to do what many Detroit entrepreneurs were doing at that time—establishing a new car company in order to profit from the great popularity of vehicles.  Most of these companies failed before they produced many cars, but Hupp's firm assembled and sold many vehicles until the Depression decade.  Then the firm—despite great odds—held for ten more years.  The first car, designed in 1908, was called the Hupmobile.  It was powered by a four-cylinder, 17-horsepower engine with a two-speed transmission and an 84-inch wheel base with a sales price of under $1,000. Robert Hupp was targeting his car for the low end of the market place.  It was first shown at the Detroit auto show in early 1909 and was very well received, so well received that more than 1,600 Hupmobiles were sold that year.  In the following two years, more than 11,000 vehicles were sold.  I assume, but do not know for sure, that Hupp was assembling cars primarily from parts purchased from suppliers.  However, I believe that he had sufficient success that he was able to purchase some of the suppliers.  I infer that the early success of his firm helped to pay for the design of this fine Indian Village residence. 

In 1910, Robert Hupp took over as head of a new Hupp conglomerate.  It included the company making the Hupmobile and also a forge company and a machining company.  Interestingly, at this time it was not certain that gasoline power vehicles would dominate the market so Hupp's empire included the Hupp-Yates electric car company, also located in Detroit.  The original Hupmobiles were produced at a plant on Bellevue but the success of the firm led them to build or purchase a plant on Lycaste.  This is in the Conner's Creek area of Detroit to the east of East Jefferson not far from the Grosse Pointe Park border.

Mr. Hupp did not get along with fellow investors in his company, so in late 1911, he sold his shares in his company. Apparently, there were lawsuits at the time of his departure.  The investors knew that Robert Craig Hupp wanted to produce cars so they got a court order that he could not apply his name to any vehicles he might produce.  They were correct about his desires.   He went on to establish the RCH Company.  In 1911, this new firm began turning out a low-priced cars, a four-cylinder, 22-horsepower model that sold from less than $1,000.  They were also built or purchased at a plant on Lycaste.  The RCH sold very well—seven thousand in the first year and 15,000 the next.  At this time, producers would show their new models at auto shows held in such places as Detroit and New York during the winter.  People who were impressed by a vehicle and, I presume, potential dealers, would place a down payment and expect delivery of their new cars later in the spring or summer of the same year.  Producers who were short of capital could use the down payments to help finance construction of the cars. Apparently, Hupp got very many orders for his 1913 RCH model so he  sought to ramp up production to meet the demand.  Lacking a supply of parts and having little control over those suppliers, he could not assemble many cars and maintain quality.  By the end of 1913, the RCH Company went into bankruptcy.  Perhaps a few 1914 RCH cars were produced using parts available at the plant.

Hupp-Yates electric cars were produced at a plant on Lycaste also.  There were models designed for 1911, 1912 and 1913.  Originally, the only available model was a four-seat coach, but later, the firm offered a roadster.  The vehicle ran on solid rubber tires.  Advertisement claimed a maximum speed of 20 mph and a range of 75 miles.  Electric cars had the great advantage of not requiring cranking, but they had the disadvantage of needing frequent battery recharges and, similar to today's all electric cars, being able to go only a short distance before the batteries needed to be replaced or recharged.   By 1912, electric starters were applied to gasoline vehicles so the popularity of electric cars quickly waned and the many firms that produced them, including Hupp-Yates went out of business. 

The Hupp firm survived without Robert Hupp.  By the start of World War I, they were manufacturing about 12,000 cars per year.  During that war, they switched to the production of trucks, but by 1918, they were back to producing cars.  They lumbered along for a few years but then, in the mid-1920s, they decided to manufacture stylish, powerful and more expensive cars.  They were quite successful at this and, in their peak year of production—1928—they assembled more than 66,000 cars.  In the late 1920s, many of the smaller producers went out of business since they lacked the access to capital and the great marketing capabilities of Chrysler, Ford and General Motors.  Hupp, at that time, was one of the more successful small-volume producers with a much appreciated high quality product.  Apparently, their owners saw a bright future for their firm.

The Hupp firm realized that they did not have facilities in Detroit to turn out very many cars so they purchased the Chandler-Cleveland Corporation in 1929.  This firm produced Chandler automobiles in Cleveland, I believe in a plant located on Euclid Avenue close to that city's eastern border.  The Chandler make was discontinued when Hupp took over.  Hupmobile production started at the Chandler plant in Cleveland but the Depression soon put an end to that and, thereafter, all Hupmobiles were assembled on the east side of Detroit.

The sale of automobiles plummeted during the Depression, although Chrysler's held up more than the other firms.  The maximum annual production for Hupp after the start of the Depression was about 9,500 cars in 1932.   Even though the Depression cut sales drastically, many producers introduced engineering innovations during the 1930s and tried to modernize the bodies of their cars.  Surprisingly, Hupmobile called upon the man who may rank as the  leading industrial designer of his age, Raymond Loewy, perhaps best known for the very stylish GG-1 Electric engines he designed for the Pennsylvania Railroad's New York to Washington line. Many railroad enthusiasts would argue that a more attraction locomotive has yet to be designed.  By 1934 Hupp Motor Works was producing a very modern looking "aerodynamic" car, one that was extremely different from the typical "boxy" vehicle of that era.  Indeed, Hupmobiles from the 1930s look much more modern and smooth than the first post-World War II generation of vehicles turned out by the Big Three.

That did not save the firm.  The Hupp Motor Works considered a variety of other strategies to save themselves, including a possible merger with Willys to design and produce a small low-priced car and a possible deal with Citroen to market those French cars through Hupmobile dealers.  Those were not accomplished.  Hupmobile assembled only 74 cars in 1936 and shut down the next year.

But they were not totally gone.  Hupmobile somehow found the capital to resume production in 1938, turning out cars similar to those they produced before 1936.  Apparently that was not very successful.  The Cord Company in Connersville, Indiana had been designing and producing stylish innovative cars in small numbers but the Depression put them out of business. Actually, I think they were taken over by the Auburn car company in Auburn Indiana, another producer that did not survive the Depression. Hupmobile purchased tools, dies and designs for the stylish Cord from Auburn and, attempted to produce an extremely modern and streamlined Skylark model in 1939.  However, they lacked the funds to assemble many cars and the Depression continued to greatly limit sales.

You might think that Hupmobile would have died for good at this time but that did not happen.   Graham-Paige was another of the smaller vehicle producers.  Their large plant from the 1920s still stands at 8505 West Warren just west of the Dearborn-Detroit border.  They somehow continued to exist during the Depression but faced the same problems as Hupmobile.  The Graham-Paige and Hupmobile firms decided that they would use the designs obtained from Cord and cooperate on the development of a very stylish car that would be assembled by both firms in hopes of staying in business.  Each firm—Graham Paige and Hupp—would turn out a different model but the basic design was the one Cord developed. After months of planning and development, Hupp Motor Works once again began producing their modern Skylark model in spring of 1940.  The market was not there, and after three months, only 319 cars had been assembled so, in July, 1940, the last Hupmobile rolled off the assembly line on the far east side of Detroit.  So far as I know, Graham-Paige never assembled any of the Cord designed vehicles.

The Hupp Corporation produced munitions during World War II, then got into manufacturing heating and air conditioning equipment.  They moved to Cleveland and survived to 1967 when they were purchased by a larger firm.  Graham-Paige prospered in World War II and then returned to building cars.  That is, they assembled the first Frasers for what would become the Kaiser-Fraser vehicle company, a firm that then moved production to the bomber factory in Ypsilanti that Albert Kahn designed to produce bombers for World War II.

The home you see is a 4,500 square foot residence designed in the Prairie style.  It includes four and one-half baths.  The home was sold to a new owner in November, 2012 for $210,000.  The architect won commissions from quite a number of Detroit area residents to build impressive homes in the early years of the last century.

Architect: George Valentine Pottle
Date of construction: 1911
Architectural style: Prairie
Use in 2014: Residence
Website for Indian Village neighborhood organization: http://indianvillagedetroit.org/
City of Detroit Designated Historic District: This home is within the Indian Village Historic District which was listed on January 1, 1971.
State of Michigan Registry of Historic Sites: This home is within the Indian Village Historic District, P4473 listed: October 29, 1971.
National Register of Historic Places: This home is within the Indian Village Historic District which was listed on March 24, 1972.
Photograph:  Ren Farley; April, 2014
Description prepared: December, 2014
Return to Historic Residences