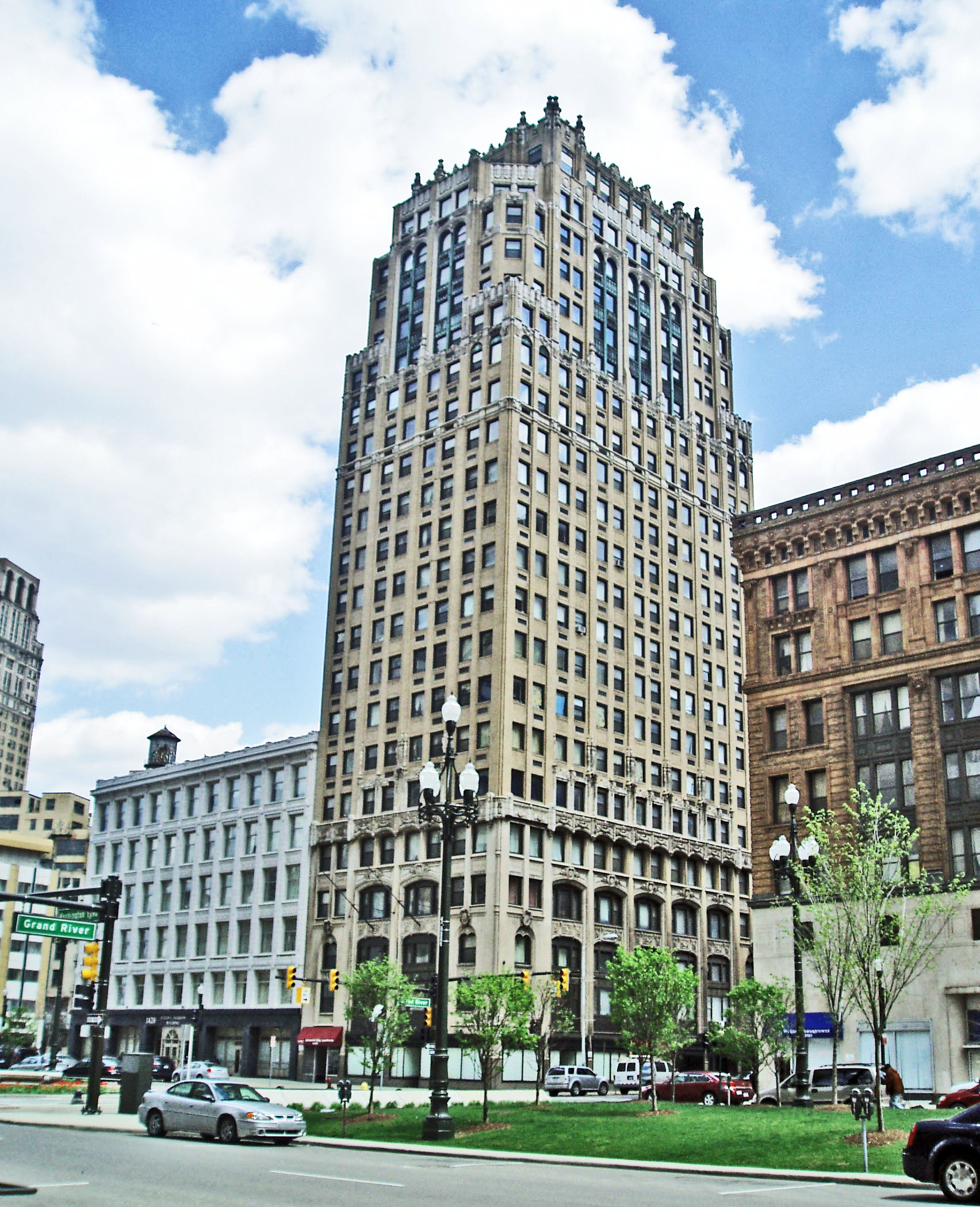 Industrial Bank Building
232 West Grand River at the intersection of Washington Boulevard
In the 1920s Detroit grew extremely rapidly in both population and wealth. The auto industry, throughout the 20th century, paid relatively high wages to blue-collar workers and, simultaneously, created great wealth for inventors and investors. Developers in Detroit realized that much of downtown Detroit was occupied by narrow, short buildings that were erected in the later decades of the Nineteenth Century. There were major efforts to modernize several-block areas of downtown Detroit. There was a serious attempt in the 1920s to build elegant hotels and impressive office buildings along Park Avenue extending about six blocks west from Grand Circus Park. This area would rival New York's Park Avenue. Most of these buildings still stand. This is now the Park Avenue Historic District. Then there were the efforts of the Book Brothers to turn Washington Boulevard into a shopping, hotel and office area that would rival Fifth Avenue in New York. Louis Kamper's architectural skills are still evident when you walk through both of these areas, areas that are now slowly being restored to the glorious status that developers imagined when Ford and General Motors dominated the vehicle industry. In the Park Avenue Historic District, you will find Kramer's Carleton Plaza Hotel (1923), Royal Palm Hotel, and the Eddystone Hotel (1924). The Carleton is now closed and awaits either renovation or razing, but the Royal Palm now operates as the Park Avenue Apartments.
Louis Kamper was, I infer, the Book Brothers' preferred architect. He designed five of the structures now found along Washington Boulevard between Michigan Avenue and Grand Circus Park: The Book-Cadillac Hotel (1925), The Book Building (1916), The Book Tower (1926), the Washington Boulevard Building (1923) and the structure pictured above: The Industrial Bank Building (1928). This was built, I believe, as an office building for the Industrial Bank and other tenants. I do not know what happened to the Industrial Bank. All Michigan banks closed in March, 1933, but only some of them ever reopened. Kamper used an eclectic approach to the design for this 22-story structure. Both classical and Beaux-Arts elements are visible. You will notice extremely attractive limestone cornices if you stretch your neck. Unfortunately, I know little about the history of this building after the Depression. At some point, it was converted into a residential property and was known as Stevens Apartments. It now the Industrial Bank Apartments for, I think, senior citizens. The address for this building may also be listed as 1410 Washington Boulevard.
Louis Kamper had a long and distinguished career as a leading Detroit architect. His first major commission was the chateau that Colonel Hecker built at the corner of Woodward and East Ferry between 1889 and 1892. Then Kamper designed two magnificent classical French style homes that still stand on East Jefferson, the James Burgess Book home and one for himself. The 1920s were very productive years for Kamper as he designed these Washington Boulevard structures, the hotels along Park Avenue, the David Broderick Tower and the strikingly modern Water Board Building. This Industrial Bank Buildinga and the Water Board Building were among his last major commissions. Once the Depression shut Michigan's bank and many of Detroit's auto factories, there was little need for architects. Although Kamper lived to see the post World War II boom in Detroit, he was well into his late eighties at that time.
Architect: Louis Kamper
Architectural style: Eclectic with Beaux Art and, perhaps, Art Deco elements
Date of Completion: 1928
Biography of Louis Kamper: http://igorfilms.com/louis.kamper.biography.pdf
Use in 2009: Industrial Bank Senior Citizens Apartment
City of Detroit Designated Historic District: Not listed
State of Michigan Registry of Historic Places: The Industrial Bank
Building is within the Washington Boulevard Historic District
National Register of Historic Sites: The Industrial Bank Building
is within the Washington Boulevard Historic District.
Photograph: May 2, 2009; Ren Farley
Description Updated: December, 2010
Return to Commercial Buildings