Park Avenue Historic District
Park Avenue between Grand Circus Park and the Fisher Freeway
By the early 1920s Detroit was becoming an extremely large and prosperous metropolis, thanks to the booming vehicle industry. There appeared to be a need for more and more downtown office buildings and upscale shopping districts. At least three major efforts were made to convert areas of downtown Detroit into locations where numerous buildings would attract high-rent tenants to upstairs offices and the silk-stocking trade to retail shops at the ground level. These areas were then filled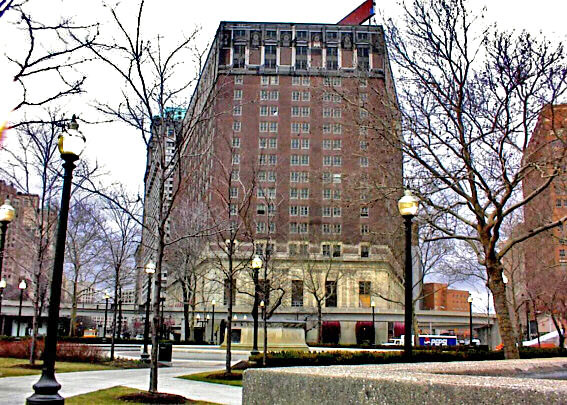 with low-rise late Nineteenth Century buildings. The Book brothers were, perhaps, most successful in their efforts to create an upscale district along Washington Boulevard anchored, at the Michigan Avenue terminus, by their Book-Cadillac Hotel and at the Grand Circus Park end by the now-razed Statler-Hilton hotel. Today, this is the Washington Boulevard Historic District.

A similar effort was devoted to developing Cadillac Square east of Campus Martius by Detroit real estate broker: John P. Barlum. The refurbished Cadillac Square Apartment Building and the Lawyers Building testify to Mr. Barlum's efforts, efforts that were truncated by the onset of the Depression in October, 1929

The third effort of this type involved Park Avenue west from Grand Circus Park. In 1923, a Park Avenue Association was formed with extensive plans for a profitable development, presumably plans that incorporated existing building such as the Hotel Charlevoix. By this time, the intersection of Park Avenue with Grand Circus Park was bracketed by two impressive Albert Kahn building: his Park Avenue Building on the south and the building he designed for the Kresge Corporation but now known as the Kales Building. The plans of the Park Avenue Association called for commercial and office buildings near Grand Circus Parks. Further to the north, there would be hotels and residential buildings. At that time, there was no Fisher Freeway that unceremoniously severed Park Avenue as it does today. One of the buildings in this district turned out to be a manufacturing building. The Wormer and Moore structure was designed for use by insurance brokers and served that purpose for some decades. After World War II, however, it was converted into a location where Iodent toothpaste was manufactured. That building may have the lives of a cat since it has, more recently, been successfully converted into a structure with bars and restaurants on the first two floors, one floor of offices while the upper floors are condominiums.

A number of buildings were erected in this district in the 1920s with offices on the upper floors. Further northwest on Park Avenue, several large hotels were constructed, hotels that are now abandoned and awaiting redevelopment or their razing. The Depression curtailed development of the Park Avenue area but most of the buildings were occupied and busy during World War II and for some years thereafter. By the 1960s, however, the demand for downtown office sank rapidly and, by 1970, many of the Park Avenue buildings were underutilized.

Prior to the riot of 1967, planners intended to refurbish the Park Avenue district. New plans were drawn to make this an appealing area for residential and commercial development. After the July, 1967 riot, however, the New Detroit Committee decided to invest in a major statement that would demonstrate to the world that the city could rise from the ashes of the largest riot of the Civil Rights era. Their efforts went into the development of the Renaissance Center. The resources that the city and private investors considered making to refurbish the Park Avenue district went into the Renaissance Center.

This Park Avenue Historic District is just to the south of the Fox Theater, a National Historic Landmark that the Illich family restored to its glory to serve as administrative headquarters of the Little Caesar's firm. Subsequently, they invested in nearby real estate and refurbished at least two of the edifices in the Park Avenue District: the former Iodent Building and the Detroit Life Building.

This district now extends only from Grand Circus Park to the Fisher Freeway and includes a total of 13 building. On this website, you will find information about the following building that are, I think, within this historic district:
Blenheim Building, 2218 Park Avenue
Hotel Charlevoix, 2029 Park Avenue, Built 1905, Architect William Joy
Campau Realty Building/Cliff Bells, 2030 Park Avenue, Built 1928, Architect Albert Kahn
Detroit Life Building, 2210 Park Avenue, Built 1923, Architects Arnold and Shreve
Wormer and Moore Building/ Iodent Building, 2233 Park Avenue, Built 1923
Kales Building, Park Avenue at Grand Circus Park, Built 1914, Architect Albert Kahn
Park Avenue Building. Park Avenue at Grand Circus Park, Built 1925, Architect Albert Kahn
Royal Palm Hotel/Park Avenue House, 2305 Park Avenue, Built 1925, Architect Louis Kampar
Women's City Club, 2110 Park Avenue, Built 1924, Architect: William Buck Straton

There are two additional buildings that are not included in the present Park Avenue Historic District but were erected in the 1920s in accord with the planning of the Park Avenue Association. These buildings have been listed on the National Register of Historic Places. They are:
Park Avenue Hotel/Salvation Army Harbor Light Center, 2643 Park Avenue at Spoat, Architect Louis Kamper
Eddystone Hotel, 100-118 Spoat at Park Avenue, Built 1924; Architect Louis Kamper.

City of Detroit Designated Historic District: Not listed
State of Michigan Registry of Historic Sites: P2965, Listed April 18, 1996
National Register of Historic Places: # 97000396, Listed May 13, 1997
Description prepared: January, 2011.
Return to Federal Register of Historic Places
Return to Michigan Registered Historic Districts