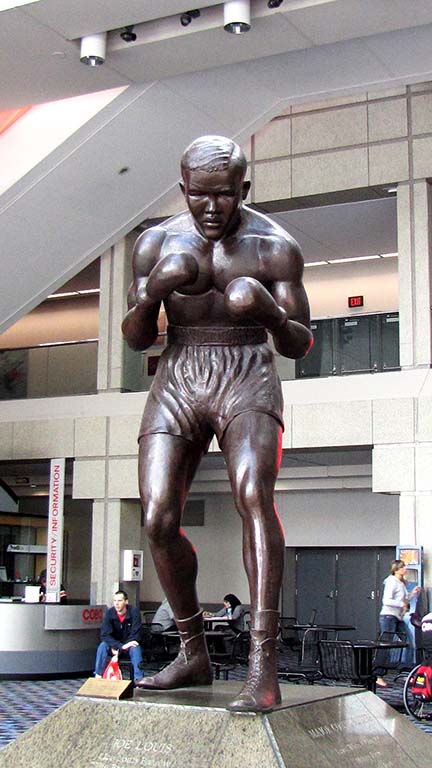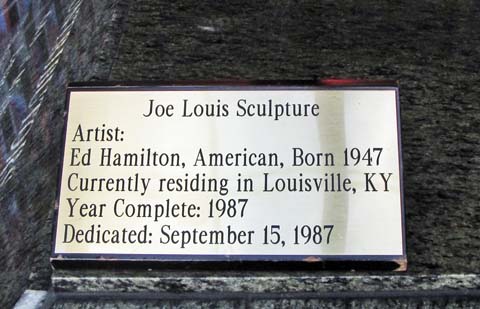 Joe Louis Sculpture

Inside Cobo Hall near the entrance to the Macomb Room and close to the doors
located near the intersection of West Jefferson and Washington Boulevard
Joe Louis was the first African American athlete to become a hero for the entire population of the United States.  He was, arguably, the nation's most prominent athlete from the late 1930s until well into the 1950s.  He was consistently associated with Detroit, although he lived elsewhere for most of his life.

Joseph Louis Barrow was born to mixed-race parents in rural Chambers County, Alabama on May 13, 1914.  He was the seventh of eight children. His father was committed to a mental institution when Joe Louis was only six years old. Believing that her husband had died in that institution, his mother, Lille Barrow, remarried.  In 1926, the family moved to Detroit because his step-father feared the increasingly violent Klu Klux Klan in rural Alabama and knew about the availability of jobs in the vehicle industry.  I believe that one of his brothers went to work at the Rouge plant shortly after arrival in Detroit.  The family lived on Catherine Street in the east side black neighborhood where many southern blacks lived shortly after coming to the Motor City.

Joe Louis' mother had high aspirations for him. She enrolled him in a ballet school and purchased a violin for him to play.  However, by his teens he was spending much time at the Brewster Recreation Center where he learned to box.  The staff there recognized that he had unusual skills and great strength.  By 1932, he was winning championships in local Golden Gloves tournaments.  The next year, he won in the Golden Gloves regional competition in Chicago.  In 1934, he won a national American Athletic Union competition as a light heavyweight.

About this time, Joe Louis came to be represented by John Roxborough.  Roxborough was not a trainer nor a boxing promoter.  Rather, he was a member of the growing black economic elite in Detroit, a group that prospered thanks to the high wages that many blacks earned in the vehicle industry.  Roxborough earned his wealth as a book maker, but moved on to real estate developments and may have invested in funeral homes.  His brother, Charles Roxborough, was a prominent Republican and was elected to represent the east side and Hamtramck in the Michigan's Senate in the early 1930s. Prosperous blacks—including Roxborough, by the late 1920s and early 1930s, had crossed East Warren and lived in the attractive homes that make up the East Kirby Historic District.

Roxborough realized that Joe Louis had the talents to become very rich as a professional boxer, but the race issue loomed.  In several states, Jim Crow laws prevented blacks from fighting whites, a result from the controversies and violence that occurred after Jack Johnson—a black man—defeated James Jefferies on July 4, 1910 in Reno, Nevada for the world heavyweight championship.  After that fight, there were riots in 50 cities that caused the deaths of 23 blacks and 2 whites.  Johnson went on to ostentatiously flout the norms that prohibited interracial sex.  Eventually, the federal government prosecuted Johnson for violating the Mann act.  That is, he paid to have one of his white female friends visit him in Illinois and the federal government successfully convicted Johnson of bring a woman across a state line for purposes of prostitution.  Johnson skipped bail and lived in Canada and France for about a decade and then worked out an arrangement whereby he served a brief term in Leavenworth.

Roxborough made certain that Joe Louis was never seen with a white woman and would never show any behavior that would confirm negative stereotypes about black men, such as their drinking and carousing.  In other words, Roxborough made sure that Louis maintained a "choir boy" image.  Because Roxborough was not familiar with the fight business, he shared the management of Louis with Julian Black, a Chicago promoter.  It was Roxborough who believed that the name Joseph Louis Barrow was too long for publicity so he shortened the name to Joe Louis.  Jack Blackburn, an experienced Chicago fighter, was hired as chief trainer for Louis.

Boxing was an extremely popular support in the Depression decade and promoters quickly recognized that Joe Louis was an exceptionally talented fighter, but they were wary about promoting interracial fights.  Given the image that Roxborough cultivated for Louis and his obvious talent, they were willing to sign him for fights.  Louis fought 13 professional fights in 1935 and came to everyone's attention when he knocked out former heavy champion, Primo Carnera, in June of that year.  In truth, Carnera was past his prime at that time but he was still a very popular fighter.   Later in 1935, Joe Louis knocked out another former heavyweight champion, Max Bear, thereby confirming his status as a contender for the title.

James Braddock reigned as heavy weight champion at this time.  The sports promoters and boxing aficionados of that era presumed that Louis should defeat the primary German challenger, Max Schmeling, before he got a shot at Braddock for the title.  In a great surprise and upset, Max Schmeling knocked Joe Louis out in Yankee Stadium in June, 1936.   The Smelling victory surprised the prize fighting world. 

In this era, sport writers often proposed nicknames for great athletes.  For Lewis, all of their nicknames suggested his skin color:  "the mahogany mauler," "the chocolate chopper," and the one that lasted: 'the Brown Bomber.

It appeared for a time, that Schmeling would fight Braddock for the title, but that fight did not occur for reasons that are still debated.  The promoters found it very difficult to work out suitable financial arrangements for the fighters but other argued that Adolph Hitler pressured Max Schmeling agents to turn down the championship match since Hitler feared that Smelling might lose.  The ideology of the National Socialists and their Aryan superiority theories held that Germans were physically superior to other groups.  Adolph Hitler was very disappointed that American athletes, including a few black ones such as Jesse Owens, outperformed the German athletes in the 1936 Olympics in Berlin.

With Smelling out of the competition, Louis fought James Braddock for the championship in June 1937.  Many expected Louis to win easily in a knockout, but it was a long and brutal fight.   Joe Louis held on to win and became the heavy weight champion of the world.

This set up the most famous prize fight in history, at least in the pre-Cassius Clay era.  Smelling's victory over Louis in 1936 made him a hero to the National Socialists in Germany.  They  presumed that he would certainly defeat Joe Louis once again, a victory that would confirm the superiority of Germany athletes and the Aryan race.  The fight was extensively promoted and became a symbol of emerging international relations.  Indeed, it was probably the most promoted sports event in history.  At that time, international radio networks were able to broadcast the event in many parts of the world. The United States was certainly not at war with Germany at this time, but Adolph Hitler's domination of Germany and German domination in Europe was clearly understood as a crucial policy that could trigger another world war. The combatants appeared to represent the American democracy and the German dictatorship.  The First World War was fought less than twenty years previously.  And—in a symbol of changing racial values—the United States representative was a black man from Detroit.  

The fight lasted just 2 minutes and 4 second.  Smelling was battered very quickly and his handlers threw in the towel before the first round ended.  For the first time, a black man was a sports hero appreciated by all Americans.  Joe Louis remained the heavy weight champion for 12 years, defended his title 24 times and retired, in 1949, undefeated.

It is interesting that, at the end of the 1930s, Detroit was home to two of the most successful athletes.  And both of them represented minority groups that were frequently disparaged.  After Babe Ruth's retirement, the Tiger's "Hammering Hank" Greenberg was the dominant power hitter in baseball and the first Jewish national sports hero.  Detroit's "Brown Bomber" was the other leading athlete from the Motor City.

After the bombing of Pearl Harbor in December, 1941, the United States entered World War II.  Governmental official worried about racial issues.  The migration of blacks to the North in the 1920s lead to an increase in the number of blacks who argued for and demanded civil rights, as well as more and more lawyers who litigated racial issues and pointed out the great discrepancy between the ideals of democracy and the way blacks were treated.  The Roosevelt Administration was pressured by blacks in 1941 to adopt Fair Employment Practices programs that forced defense con tractors to hire black workers and pay them at the same rate as white workers if they did similar work.  The United States Armed Forces, however, either enforced Jim Crow rules or excluded blacks from entire units.  The Roosevelt Administration feared that blacks would systematically resist the draft or, in large cities, provoke racial confrontations that would lead to extensive rioting.  Roosevelt did not want to send thousands of troops to the streets of the nation during a war to prevent blacks and whites from killing each other.   Fortunately, there was only one major riot, the one that began on Belle Isle on June 20, 1943 and led to the deaths of 34 Detroit residents.  President Roosevelt quickly dispatched troops from the Fifth Army in Chicago to Detroit.  They marched into the streets with weapons drawn and put down the fighting in less than 30 hours.

Joe Louis, as reigning heavyweight champion, agreed to serve in the Army and was promptly used as a symbol of black support for the war efforts.  He was sent to military camps to bolster morale and to show that members of his race were patriots who strongly supported the war.  He would often spar with members of the military on the bases in highly publicized events.  Knowingly or not, he became a primary instrument of the Roosevelt Administration in putting down potential black resistance to the draft and to the war.
 
The United States was victorious and Joe Louis continued his successful boxing career for about four years in the booming peace time era, retiring from the ring in 1948.  For about a decade thereafter, the United States government used Joe Louis in a very different way.  In the late 1940s, the government found it challenging to collect income taxes.  More so than at present, transactions were in cash so doctors and other professionals were paid in actual dollars.  And the maximum marginal income tax rate went above 90 percent in the Eisenhower years, so prosperous folks had strong motives to not report income.  Today, the government gets its cut when formal payments are made, be they wages or dispersements from retirement programs or even gambling winnings at a casino.  In the 1940s, people were paid and then were expected to settle with the government at tax time.  Many high rollers just never got around to paying.

There is no doubt that Joe Louis managed his finances poorly, exceptionally poorly.  He spent money as soon as he got it.  One of his wives and many of his associates tried very diligently to manage his finances but without success since he enjoyed spending money on his friends.  He traveled and spent time with high rollers—movie stars from Hollywood and the leading musical performers from both coasts.  He was generous.  He even paid Detroit's welfare agency back for funds his family had received during the Depression. 

Joe Louis was typically paid thousands of dollars immediately after each of his fights.  He spent that money instanteously and so, at the end of the year, he had nothing left to pay his income tax.   Federal tax officials came to cast him as prime enemy number 1 when it came to taxes.  Bankruptcy laws at that time and the government's persistent efforts to grab whatever income Louis obtained immiserated him.    He tried a number of strategies to get out of debt, but they failed.  And, in honesty, his own lack of ability to manage money and his taste for an expensive life style contributed to his persistent problems.  He came out of retirement to earn money to pay the government, but he never solved his financial problems.  In his later years, he was quite dependent upon the generosity of his large array of funds.   His complicated marital history—four marriages and three different wives—complicated his problems.   

By the Civil Rights decade, government tax officials realized that they could not get any of the money Louis owed and stopped using him in their publicity campaigns.  Lewis, by the 1960s, found work as a greeter at a casino in Nevada. 

The trajectory for Max Smelling was extremely different. When Smelling represented Germany, he lived in New York for several years.  Sports stars have always been popular people, so he became very friendly with influential people in New York.  He made it clear to the Americans that he did not like being the symbol of the National Socialists.  He apparently resisted being inducted into the German army, but eventually returned to his home.  He had Jewish friends and is credited with saving several of their children from being put into a concentration camp.

The Germans drafted Smelling and, unlike Louis, he was sent to fight on the front lines.

Jim Farley, a larger than life New York bon vivant, was President Roosevelt's chief political fundraiser and an influential financial operator.  He  had been impressed by Max Smelling.  Knowing that many Americans would be stationed for years in Germany, after V–E Day he suggested that Coca Cola market its product there.  The firm agreed and Jim Farley went to Germany,  found his friend Max Schmeling and set him up with Coca Cola franchises.  Schmeling became a rich man.  Schmeling also realized what the US government was doing to Joe Louis, visited Louis and then started to provided Louis with financial support; presumably dollars that the Internal Revenue Service could not touch.  Smelling lived into his 100th year.

Joe Louis died in 1981 lacking money for a funeral.  His friends—some think Frank Sinatra played a lead role—raised funds for his burial.  President Reagan learned of the tragic situation and ordered that Louis be buried with military honors in Arlington Cemetery.

The sculptor, Ed Hamilton, was born in Cincinnati in 1947 and studied at the Louisville School of Art.  Originally, he worked as a painter, but he then apprenticed with the Louisville sculptor, Barney Bright.  After 1980, Hamilton began to obtain commissions from around the United States.  His works include a sculpture of Brooker T. Washington located on the campus of the school he attended, Hampton University.  He also sculpted a memorial to the slaves who successfully overthrew their captors on the ship La Amisted.  That ship was towed to a US port by the Navy, leading to litigation about the status of the rebellious former slaves.  The Supreme Court freed them as a result of litigation that began in New Haven where Hamilton's status stands.  He also sculpted statues of Abraham Lincoln and York that stand in Louisville.  York was William Clark's manservant who accompanied Lewis and Clark on their famous journey from St. Louis to the Pacific coast.  Interestingly, York—whose first name is not know with certainty—asked for his freedom when the party returned to St. Louis, but William Clark denied that request.

Sculptor:  Ed Hamilton
Date of Installation: 1987
Photograph:  Ren Farley; 2013
Return to Public Art and Sculpture