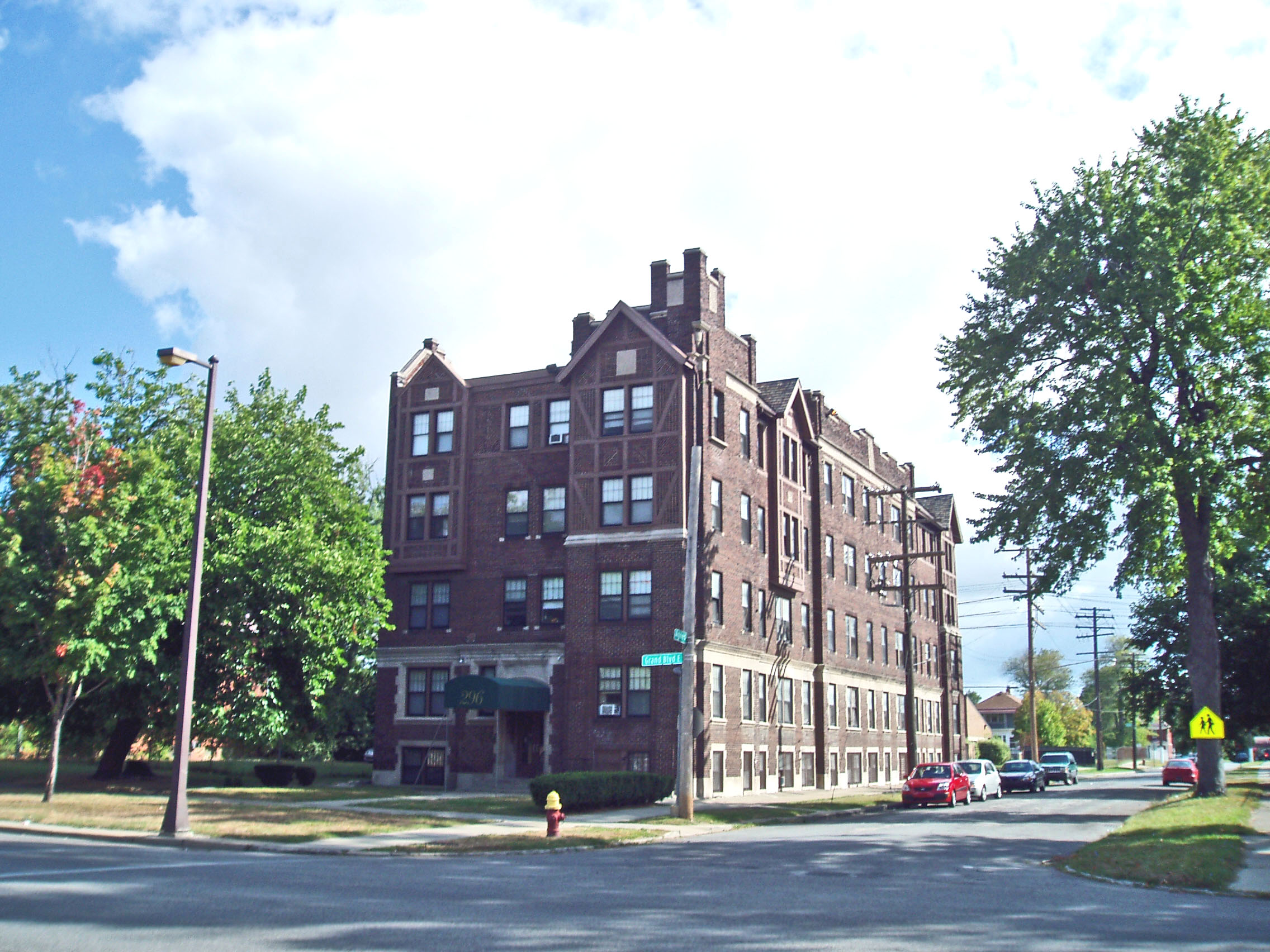 Kingston Arms Apartments
296 East Grand Boulevard
Relatively few apartment buildings were constructed in Detroit compared to other large cities in the United States that grew rapidly before the Depression decade. Land was quite available at reasonable cost in Detroit so developers, I believe, found it more profitable to put up single-family or duplex homes rather than multi-family buildings. However, some modest-sized apartment buildings were erected, including this one. It is an appealing four-and-one-half story structure that originally contained 24 apartments.

The nearby Church of the Messiah assumed responsibility for providing housing for low-income residents of the city. They established a Church of the Messiah Corporation and used governmental funds, as well as private donations, I assume, to rehab at least three buildings along East Grand Boulevard: this one, Saint Paul Manor Apartments and El Tovar Apartments. They were converted for use by Detroit residents who held Section 8 vouchers from the federal Department of Housing and Urban Development.

This building is included within the East Grand Boulevard Historic District that was listed on the State of Michigan and National registers in 1999.

I know very little about Jacob Weinberg who designed this Tudor-style building. I infer that he served as the architect for a number of apartment buildings in Detroit during the booming 1920s. One of his other works is the Merton Manor Apartment at 361 Merton Road in the Palmer Park Boulevard Historic District—also a Tudor style building. He took a quite different approach in his design for the Majestic Manor Apartment at 2690 West Boston Boulevard. This is a Spanish-Moorish building.

Architect: Jacob I. Weinberg
Architectural Style: Tudor Revival
Date of Construction: 1924
City of Detroit Designated Historic District: Not Listed
State of Michigan Registry of Historic Places: P35,833
State of Michigan Historical Marker: None
National Register of Historic Sites: #99000433 Listed April 9, 1999
Use in 2011: Apartment Building
Photograph: Ren Farley, September 6, 2008
Description prepared: January, 2011

Return to Multi-Family Housing