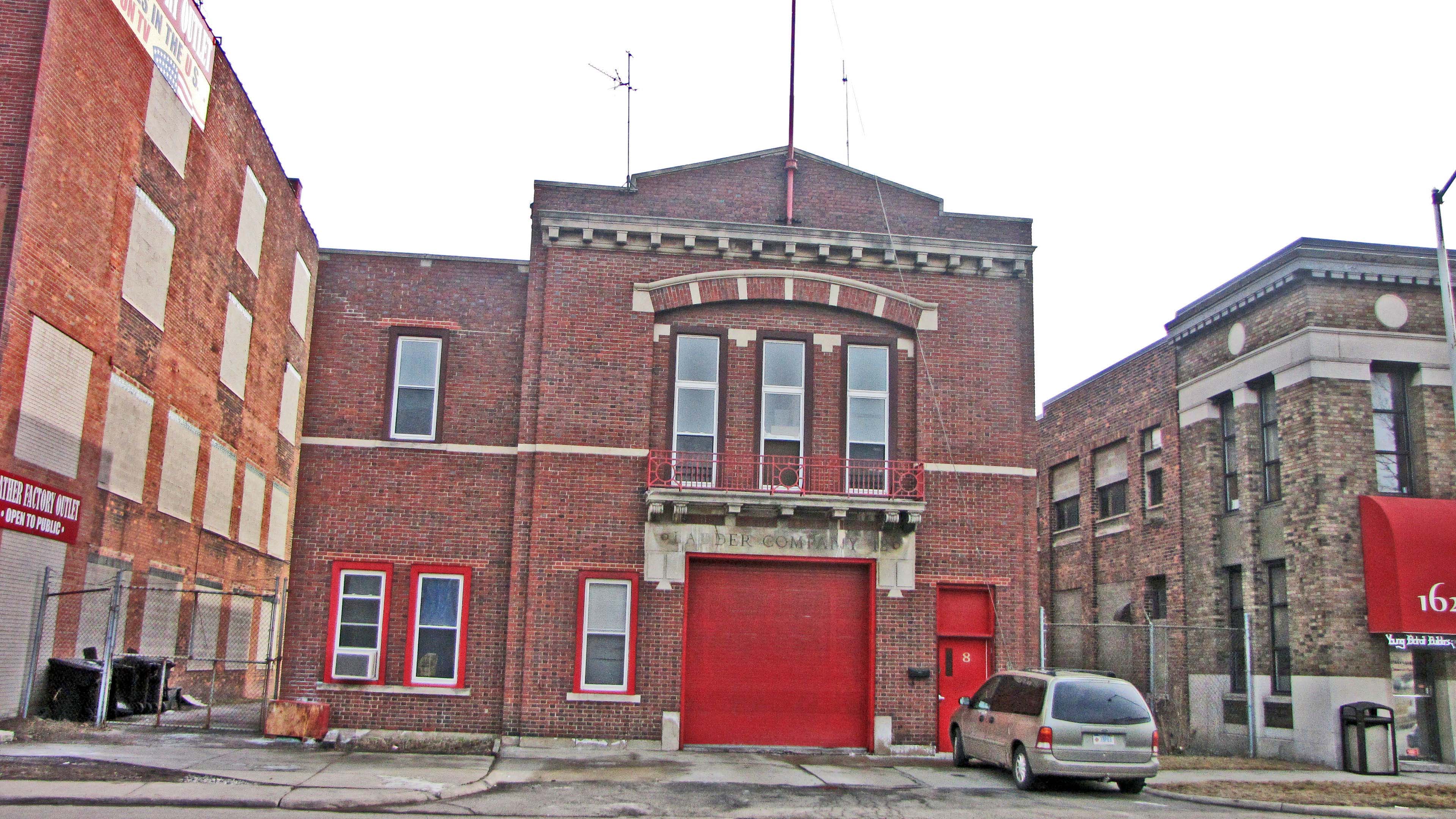 Detroit Fire Department Ladder Company #12
1625 West Lafayette near the intersection of Tenth Street
in Detroit's Corktown neighborhood

The early decades of the last century witnessed massive infrastructure investments by the city in police stations, libraries, parks and fire houses.  This is an example.  As the city's overall population grew, there was a need for more fire protection, including in the Corktown area.  Thus, the city had Ketting and Chittenden design this 4,825-square-foot fire house.  This was an era when massive horses pulled fire wagon so substantial stables were constructed behind this building.  The fire department quite rapidly retired their horses and switched to trucks.  The final horses were given their retirements in April, 1922.

As the city's population declined and tax revenue plummeted, the city closed many of its municipal facilities.  This fire house was last used in 1982.  At the start of the bankruptcy process, the city sought to raise money by selling its abandoned property including eight or nine fire houses.  This one went on the market in April, 2013 with a required minimum bid of $108,000.  There were, apparently, 13 bidders but the winner was a group of four individuals.  Two of them were Phil Cooley, the founder of Slows-Bar-be-Que and Kate Bordine, the founder of The Pony Ride entrepreneurial facility.  Newspaper stories suggest the sales price was $140,000.

Fire houses are often attractive and valuable buildings, even when their age greatly exceeds one hundred years.  There is a very large first floor space where the wagons or trucks were once stored.  And on the upper floors, there is a large area where the fire fighters lived when on duty.  Presumably, the upper stories were plumbed and wired for a substantial kitchen.  The buildings, of course, were very well constructed and maintained until the city moved toward its financial armagaddon.

The new owners of this fire house converted the first floor area into a design studio for Ed Welburn who formerly held the appointment as General Motors Vice President in charge of design.  Presumably, he will run a design studio from this location.  The upper level or levels are being converted into an attractive residential units that will, presumably, be occupied by Kate Bordine and Phil Cooley.

Several of the other police or fire houses that have been purchased and converted or are, in 2017, being converted include:

Fire Department Engine Company No. 18 at 3813 Mount Elliott has been converted into a residence.

Fire Department Ladder Company No. 8 at 1467 Junction in southwest Detroit being converted into a residence.

Fire Department Engine Company No. 10 at the intersection of Vinewood and West Grand being converted into a coffee roasting establishment.

Fire Department Engine Company No. 2 at 585 Larned in downtown Detroit which is now the George J. Asher Law Clinic of the University of Detroit Mercy School of Law

Fire Department Headquarters at 250 West Larned in downtown Detroit which was remodeled into the Detroit Foundation boutique hotel ND opened in May,2017

Fire Department Ladder Company No. 16 at the corner of Miller and Helen on the east side was recently sold.

Detroit Police Department Ninth Precinct at the corner of East Bethune and John which will become an office building.
Architects:  Charles Ketting and Alpheus W. Chittenden
Date of construction: 1908
Builder: Max Bartholomaie and Sons
Use in 2017: Fire house abandoned in 1982 but undergoing a renovation to become a design studio and residence
City of Detroit Designated Historic District: Not listed
State of Michigan Historic Site: Not listed
National Register of Historic Places; Not listed
Photograph: Ren Farley; March 11, 2010
Description updated: January, 2018

Return to City Government

Return to Homepage