Theodore Levin Federal Courthouse
231 West Lafayette in downtown Detroit
Born in Chicago in 1897, Theodore Levin spent much of his youth in London, Ontario. His parents moved to Detroit when he was in his teens. He enrolled at the University of Detroit and earned a law degree in 1920. In that decade, the Ku Klux Klan and numerous other American-first groups were active in Michigan and the Midwest. They played upon the beliefs of many that aliens in this nation were unpatriotic and should be investigated or expelled. I believe that the Michigan legislature enacted a statue that called for the fingerprinting of all aliens in the state. Sometimes these measures were portrayed as clearly anti-Semitic since many assumed that the aliens who posed the greatest threat were eastern European Jews who supported socialism or comm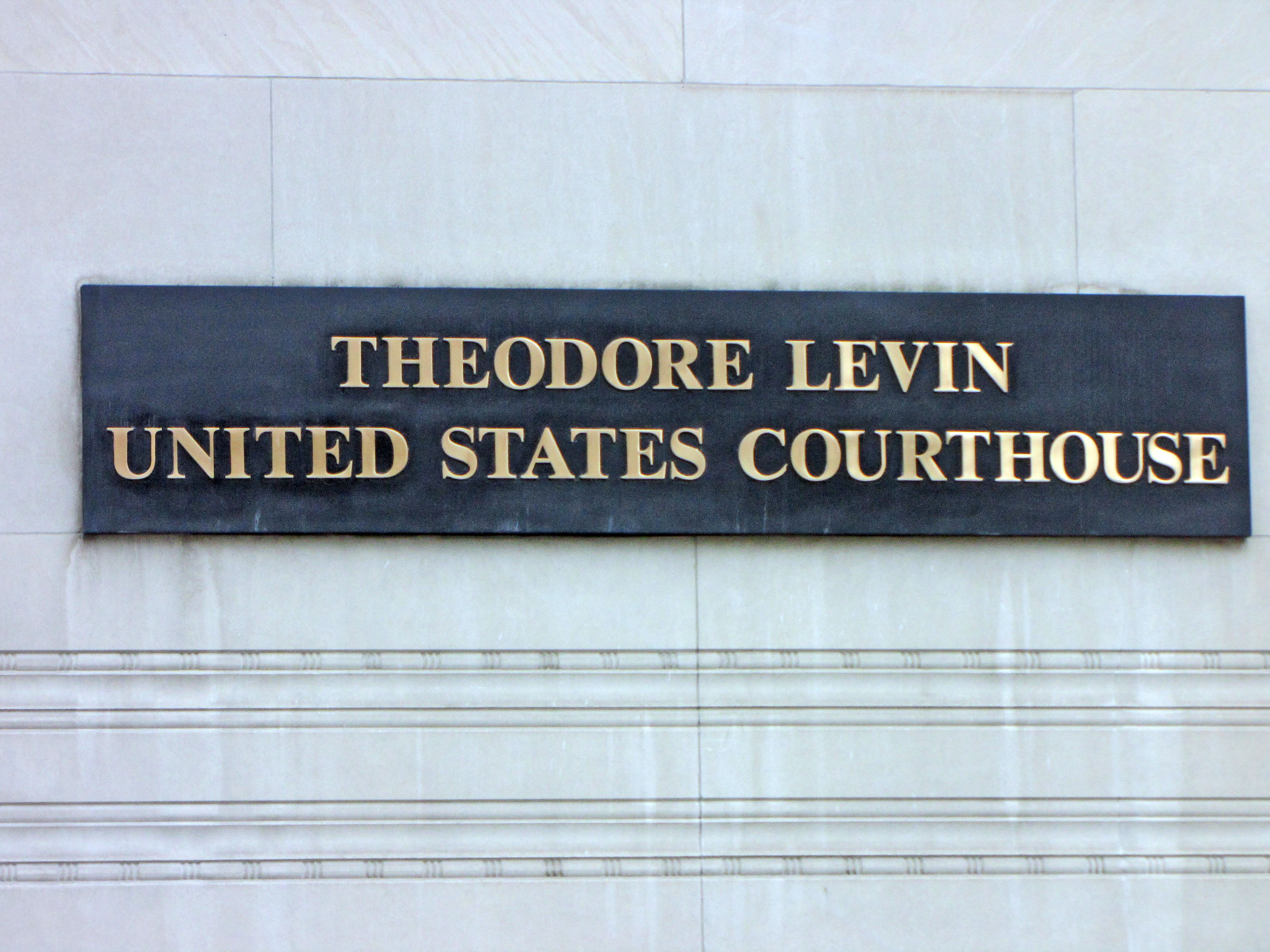 unism.
Theodore Levin's practice in Detroit focused upon immigration law and the deprecations of civil rights that were advocated by some activist groups. In addition to practicing law, he was active in civic affairs and served in several appointed positions. President Truman appointed him to the federal bench for eastern Michigan in 1946. He served until his death in 1970, and for many years, was chief judge of the court. Twenty-five years after his death, the building where he worked was named for him. In 2010, two of his nephews represented Michigan in Congress: Senator Carl Levin and Representative Sander Levin.
Stone and limestone were used extensively on the exterior of this ten-story building. It has an appropriately judicial and ponderous tone, relieved somewhat by Art Moderne styling. The main entryway is done in limestone with polished black stone. Note the eagles carved in stone above the entrance and the clear label that indicates this is a federal building.
This building was constructed on the site of Fort Lernoult. When the British occupied Detroit in 1760, they made use of the French military facilities for some years, but then built Fort Lernoult in 1779. After the British and the United States ratified Jay's Treaty in 1795, Colonel Jean François Hamtramck peacefully took command of the fort for the United States in July, 1796. The federal government renamed the military outpost Fort Detroit in 1805, a name the French had once used for their military encampment. In 1812, the fort was surrendered by General Hull to the British, but United States forces retook the fort in 1813. It was then renamed Fort Shelby in honor of the governor of Kentucky who raised numerous troops to fight for the United States against the British in the Lake Erie battle area during the War of 1812. The United States military used Fort Shelby until 1826 when it was transferred to the city of Detroit. In the following year, the city razed the fort and the land was used for commercial purposes. In 1897, a large post office was built on this location, one that was razed for construction of the Theodore Levin Federal Courthouse. In 2006, the federal government spent $650,000 to clean the exterior and replace the windows in this structure.
Several extremely important civil rights trials occurred in this building. In 1973, the Bradley v. Milliken litigation sought to remedy racial segregation in the public schools of metropolitan Detroit. Judge Roth eventually ordered a cross-district busing solution that was overturned by the Supreme Court. The constitutionally of affirmative action for racial minorities and women was litigated here in 2000 in two cases involving the University of Michigan; Gratz v. Bollinger and Grutter v. Bollinger.
Architect: James A. Wetmore and Robert O. Derrick
Date of Construction: 1932 to 1934
Architectural style: Art Deco and Art Moderne
City of Detroit Designated Historic District: Not listed
State of Michigan Registry of Historic Sites: Not listed
National Register of Historic Sites: Not listed
Photograph: Ren Farley, July 7, 2005
Description updated: May, 2010