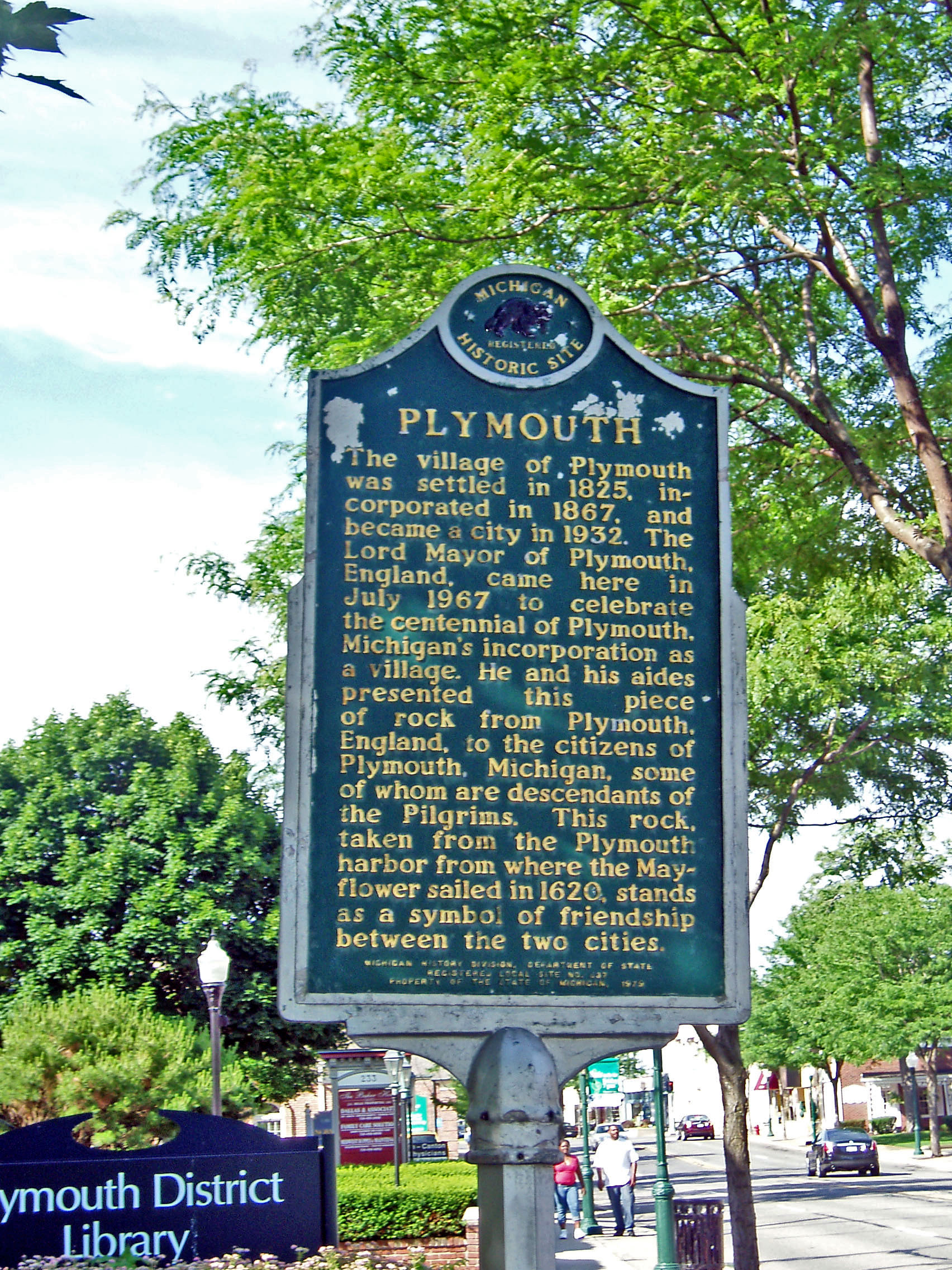 Plymouth Informational Designation
Plymouth City Hall
201 South Main Street, Plymouth

The first European to settle in the area that is now Plymouth was William Starkweather. He built a log cabin in 1825. Later, a few other settlers arrived and they called the site Plymouth Corners since some of them believed they had ancestors who arrived on the Mayflower when it docked in Massachusetts in 1620. They established the successful Plymouth colony which was named after their port of departure in England. In 1828, a post office was established here and the name of the population cluster was shorted to Plymouth. In 1867, Plymouth was incorporated as a Michigan village and, in 1932; it became a home rule city, the corporate status it enjoys today.
Similar to many other villages in southern Michigan, Plymouth became a small manufacturing center in the later three decades of the Nineteenth Century. This development was hastened by the arrival of the railroads. The Detroit, Lansing and Lake Michigan built tracks through Plymouth in the summer of 1871, a line that eventually reached from Detroit to Grand Rapids with connections to Chicago after the Pere Marquette Railroad was formed in 1899. The Holly, Wayne and Monroe Railroad also reached Plymouth in 1871 giving the village an east-west and a north-south rail line. By the next year, the Holly, Wayne and Monroe became the Flint and Pere Marquette Railroad with a line that extended north from Toledo through Plymouth to Flint. Within a few years, it extended north to Saginaw and then west to Ludington. This line was also incorporated into the Pere Marquette Railroad in 1899, a line that was purchased by the Chesapeake and Ohio in 1929 but became the CSX Railroad in 1987. Both of these lines continue to carry freight through Plymouth. Perhaps, the most famous item manufactured in Plymouth was the Daisy Air Rifle. Henry Ford also located one of his village industries in Plymouth, located in a currently unused building that stands along Hines Drive at 230 Wilcox.
The State of Michigan began building an extensive network of roads immediately after World War I. This had huge consequences for Plymouth since it went from being a more or less independent manufacturing and shopping center to a component of the Detroit suburban ring.
Residents of the town decided to celebrate the centennial of the founding of the village. They invited the Lord Mayor of Plymouth, England to visit in the summer of 1967. He had a rock dredged up from the harbor of his city and presented it to the citizens of Plymouth, Michigan to symbolize the bonds that link the two Plymouths.
Information about the history of Plymouth, Michigan: http://www.ci.plymouth.mi.us/index.aspx?NID=300
Website for the Plymouth Historical Museum: http://www.plymouthhistory.org/
State of Michigan Historical Site: P25, 341 Listed: December 21, 1978
State of Michigan Historical Marker: Put in place June 12, 1979
Photograph: Ren Farley, June 21, 2009
Description prepared: June, 2014