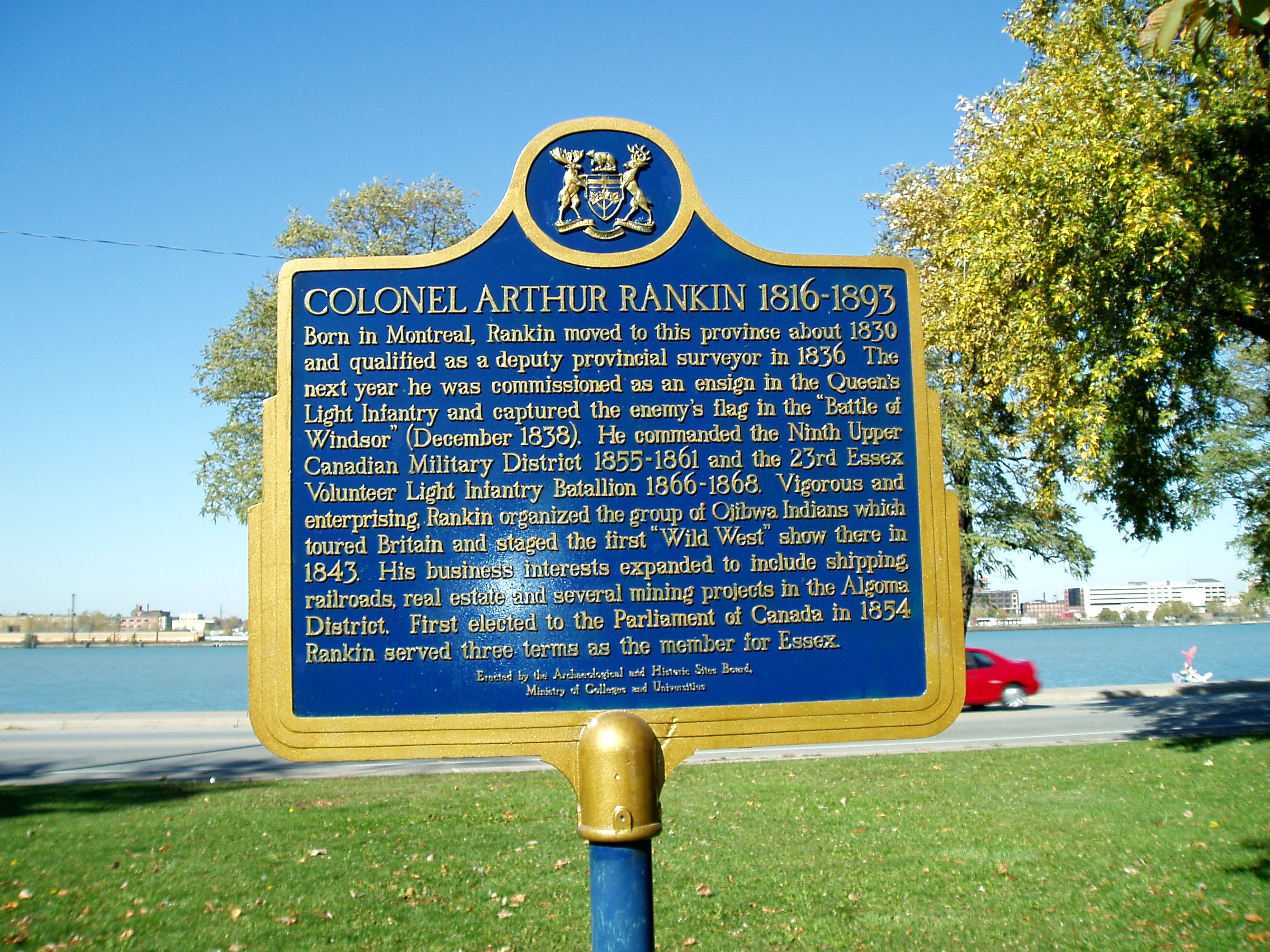 Colonel Arthur Rankin, 1816-1893 Historical Marker
This marker is located on the south side of Riverside Drive in Ernest Atkinson Park between Bridge Street and Rankin Avenue in Windsor, Ontario

This historical marker commemorates a hero of the 1838 Battle of Windsor. Arthur Rankin was born in Montréal in 1816. His parents had migrated there from Ireland after the War of 1812 when that city was becoming a major entrepôt where raw materials from the New World were exported, and manufactured products from Europe were imported. His parents enrolled Arthur Rankin in the Petit Séminarie de Montréal but he, apparently, did not wish to become a priest so he ran away and worked on ships for five years. He eventually returned to Canada and, in 1837, obtained his certificate as a surveyor. Rankin set up his business in Windsor.
From December, 1837 through December 1838, William Lyon Mackenzie led an armed rebellion against the established colonial government of Upper Canada. Canadian followers of Mackenzie and quite a few Americans carried out a number of skirmishes along the border. For more details about this insurrection, see the description for The Battle of Windsor. Rankin wished to defend the government of Upper Canada and joined the militia. When the followers of Mackenzie crossed the Detroit River on December 4, 1838, they were briefly successful. However, Canadian militiamen soon routed them. Rankin played a key role in this military victory for the forces of the Crown. Rankin's commander, Colonel John Prince, apparently felt that he—not Rankin—should be seen as the hero of the Battle of Windsor, but many gave credit to Arthur Rankin. This became a matter of continuing and bitter dispute when both men ran for elected offices later.
Rankin left military service in 1843. At this time, a growing middle-class population emerged in the largest cities who had the time and funds to attend shows and presentations. Sometimes these show presented the exotic. Later in that century Wild West shows became extremely popular. Rankin recruited a group of Ojibwa Indians, presumably from the greater Detroit area, and took them to England where they presented what may have been that nation's first Wild West shows. They even gave a special performance for Queen Victoria. Rankin sold the show in England and returned to Canada.
In the early 1850s, Rankin entered politics and eventually served three terms in Parliament. He also became a successful investor by developing copper mines near Lake Superior and Lake Huron. He also developed gold mines and, I believe, helped develop railroads in the areas where his mines were located.
Rankin strongly opposed slavery. While in Windsor, he traveled to Ohio and smuggled at least one slave to freedom in Canada. During the American Civil War, Rankin volunteered to raise a force of Canadian and British troops who would fight for the Union, naming them Rankin's Lancers. Rankin actually met with President Lincoln who approved his ideas and appointed him as the commanding officer for the unit. At the time, Rankin was serving in Canada's Parliament. Many of his colleagues thought that it was inappropriate for a Member of Parliament to recruit Canadian for a foreign war and serve as a commanding officer in the United States Army. Indeed, Canada had a law prohibiting anyone from recruiting their citizens for service in a foreign military. Rankin was arrested for violating the Foreign Enlistment Act. He was not convicted but he gave up his officer's appointment in the Union Army and stopped recruiting Canadians to fight in the United States.

Website for biography of Arthur Rankin: http://www.biographi.ca/009004-119.01-e.php?&id_nbr=6388&&PHPSESSID=0jnoj5cm5lhfe9vaaj5cfr2kf2
Photograph: October 29, 2008
Description prepared: December 2008
Return to Detroit-Related Ontario Historic Sites