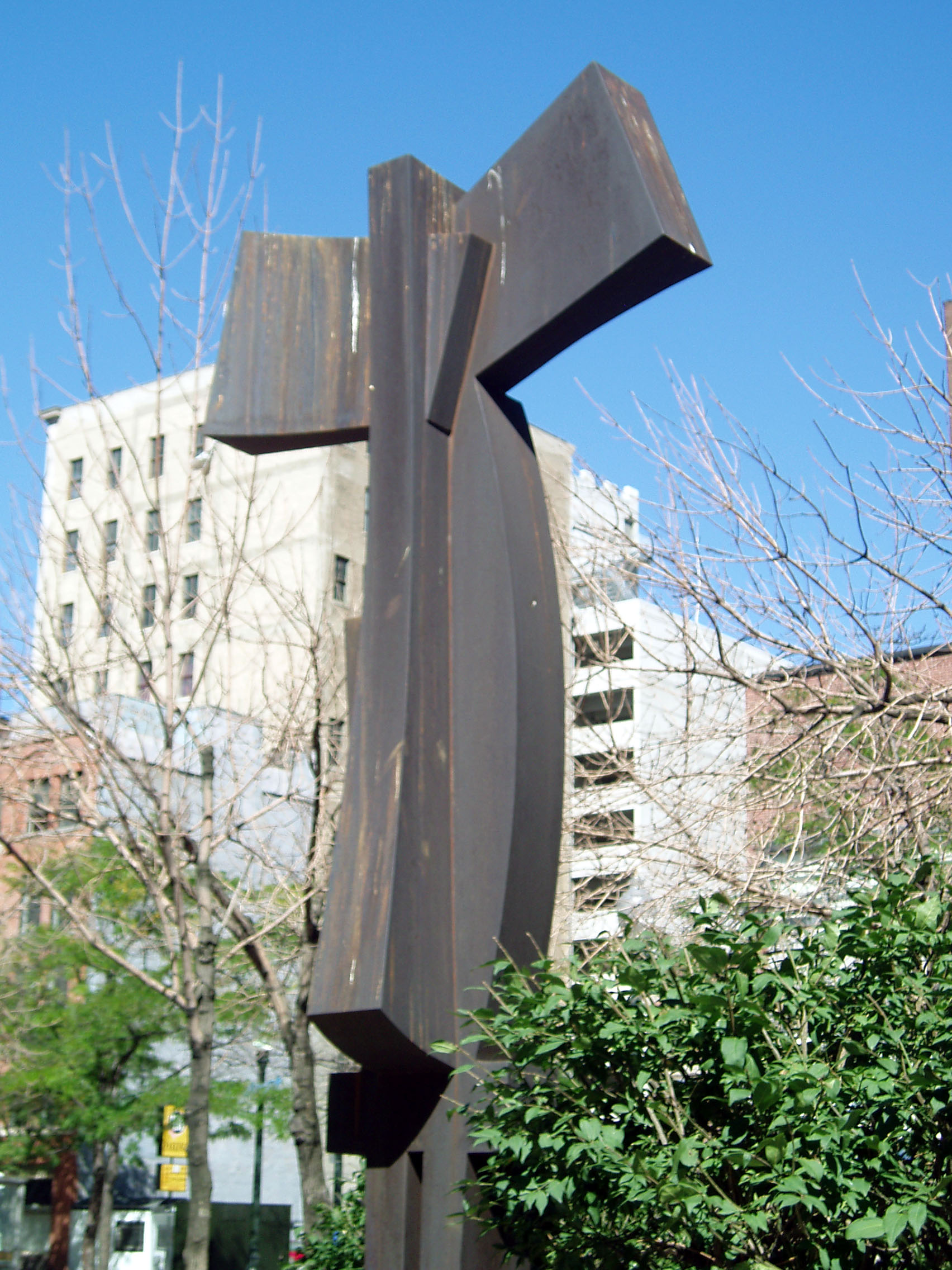 Sentinel X
Located in Capitol Park near the intersection of Shelby and State
in downtown Detroit
Morris Brose, born in Wyszkow, Poland in 1914, migrated to Detroit in 1931. He became a successful business person, although I do not know his line of endeavor. About 1949, he decided that he would like to become an artist. He studied at Wayne and, shortly thereafter began working in his new profession. Perhaps his sculptures are most well-known, but he worked in a variety of artistic fields.

In 1968, Brose began to sculpt erect pieces that are sparse, tall and angular. They comprise his Sentinel series. They suggest the human form. Sentinel X is, I assume, the tenth in this series. The only other one that is on public display is, I think, Sentinel II which is located on the Art Walk on Wayne State University's campus. The projection at the top of the abstract Sentinel X may suggest a human head. This one was created using steel. Other Sentinel sculptures were constructed from wood and bronze.

Brose produced a number of whimsical sculptures by welding together various pieces of metal. He also worked as a photographer. His pictures have been featured at expositions in local galleries. A very active and popular Detroit artist, he taught art at Wayne State, Cranbrook and the institution that is now the College for Creative Studies.

This impressive sculpture was originally installed in Capitol Park in 1979, but the park gradually went into decline and failed to serve as a pleasant place to sit and enjoy the sun. The Kresge Foundation, the city of Detroit and the Downtown Development Authority invested more than one million dollars in revitalizing the park in 2010. Their efforts produced a much more attractive site. Brose's Sentinel X was reoriented and am, I believe, better displayed in its new location on the west side of Capitol Park.
Date of installation: 1979
Sculptor: Morris Brose
Material: Steel
Use in 2012: Public Art
City of Detroit Local Historic District: Not listed
State of Michigan Registry of Historic Sites: Capitol Park Historic District
National Register of Historic Places: Capitol Park National Historic District
Listed March 18, 1999
Photograph: Ren Farley, April 20, 2012
Description prepared: May, 2012

Return to Public Art and Sculpture

Return to Home Page
Date of construction: 1979
Sculptor: Morris Brose
Material: Steel
Use in 2005: Public Art in a potentially attractive park
Photograph: Ren Farley, September 20, 2005
City of Detroit Local Historic District: Not listed
State of Michigan Registry of Historic Sites: Not listed
National Register of Historic Places: Capitol Park National Historic District
Listed March 18, 1999
Return to Public Art and Sculpture