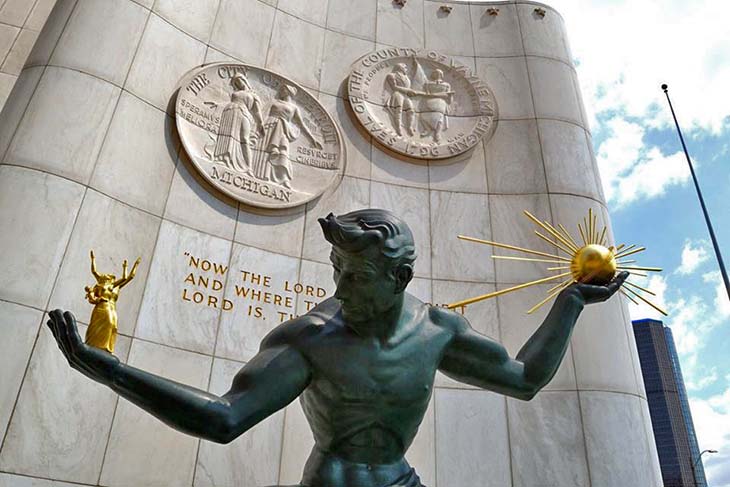 Woodward Avenue very near the intersection with Jefferson on the side of the
Coleman Young Municipal Building in downtown Detroit
Marshall Fredericks is Michigan's—and Detroit's—most well-known sculptor, and this is, quite likely, his most well-known achievement. When this new city-county office building was being constructed in the mid-1950s, Fredericks was commissioned to execute an appropriate statue. The picture shows his design. There is a large, seated figure in bronze representing the spirit of humanity. The left had holds a large gilt globe, symbolizing God. The right hand holds a family, symbolizing human the family that was, in Frederick's view, the noblest human relationship. The large marble backdrop for this statue measures approximately 40 feet by 35 feet. The seals of the City of Detroit and Wayne County are carved in the marble. Fredericks was inspired by a phrase from Paul's second epistle to the Corinthians: " Now the Lord is the Spirit and where the Spirit of the Lord is, there is liberty." (2 Corinthians, 3: 17). The sculptor did not give this work the name "Spirit of Detroit" but it is now known by that title.
Other Marshall Frederick works in the Detroit area include "Victory Eagle and Pylons" on the Jefferson Avenue side of the UAW-Ford National Program Center (151 West Jefferson, within walking distance of "The Spirit of Detroit"); the beautiful Levi L. Barbour Memorial Fountain on Belle Isle in the formal garden west of the Conservatory; the statue of Henry Ford in from of the Henry Ford Centennial Library at 16301 Michigan in Dearborn; The Freedom of the Human Spirit Statue in Shain Park in Birmingham at the corner of Bates and Merrill Streets, and Star Dream in the Barbara Hallman Plaza at the Royal Oak's city hall located at the corner of Williams and East Second in that suburb.
Sculptor: Marshall Fredericks
Date of Completion: 1958
Location: On the Woodward side of the Coleman Young Municipal Building close to the intersection of Woodward with Jefferson in downtown Detroit.
For a picture of Marshall Fredericks with this sculpture, see: http://apps.detnews.com/apps/history/index.php?id=159
Photograph: Lauren Schad
Description updated: November, 2012

Return to Public Art and Sculpture