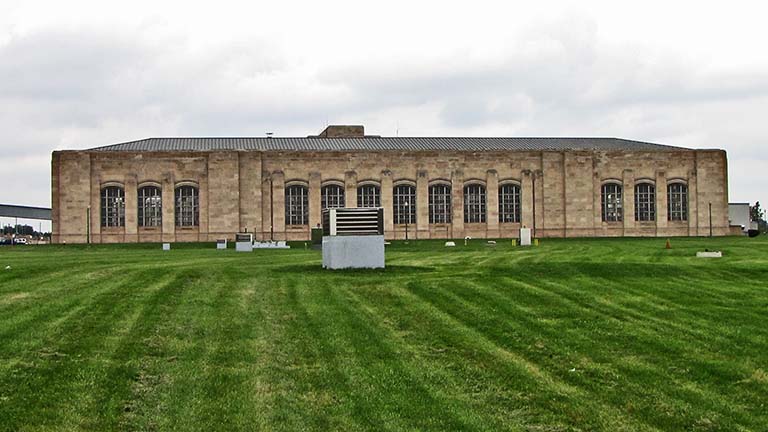 Springwells Water Treatment Plant
8300 West Warren, Dearborn
This is one of those huge and strikingly attractive buildings in or near Detroit that you drive by and then wonder what it is, why it is there and what it is used for today. Is it just another abandoned building like the Rickenbacker Factory or the Liberty Motor Car office building?  There is no large sign to identify its current use and no historical marker calling attention to its significance for the development of Detroit as an industrial metropolis.

The Detroit water system dates from August 5, 1824 when the Territorial Council enacted legislation giving Peter Berthelet from Montréal the right to erect a wharf and water pump in the Detroit River at the foot of Randolph.  Taxes were imposed upon residents to pay for Berthelet's water system.  Berthelet was obligated to maintain the supply, but residents had to go to his pumping facility to get their Detroit River water.  In 1827, Rufus Wells began building a much larger water works on Randolph Street, apparently in cooperation with Berthelet whose pump continued to operate until 1835.  As the city's population grew, water mains were laid down, but in Detroit and elsewhere, private individuals and firms ran the water business.  City council, apparently, spent much time debating issues of water management since residents wanted clean water and were often dissatisfied with the firms that supplied water.  Finally, in 1852, City Council established a municipally-owned water system, an ancestor of the Detroit Water and Sewerage Department that now provides service to much of southeast Michigan
.
The late Nineteenth Century saw a tremendous expansion of water services in metropolitan Detroit as the population grew and industries located here.  By the late 1860s, more than a billion gallons a year were being pumped.  In 1880, the 56-acre Grand Marais farm on East Jefferson was purchased and turned into Water Works Park with its pumping stations.   By 1907, water production in Detroit on a per capita basis reached 160 gallons each day.  The massive High Lift Building that now stands behind an imposing fence was completed in 1910 and served as the area's major water treatment facility.

The first three decades of the last century were the years of peak population and economic growth for southeastern Michigan as Detroit became the internationally acclaimed "Motor City".  More water was needed, so in 1924, the Board of Water Commissioners authorized the construction of the large building that you see pictured on this page. It took eleven years to complete the facility, but when finished, it supplied 300 million gallons of clean water daily.  When opened during the Depression, skeptics wondered about the wisdom of such a large plant, but the industrial activities of World War II and the post-war boom with its successful invasion of the Crab Grass Frontier, the water filtered at this plant was needed.  Indeed, in 1955, this plant was greatly expanded to increase its productivity to 500 million gallons per day.  It has been remodeled and updated since then.

At least since World War I, there has been a concern that enemies or terrorists would cause havoc in United States cities by polluting the water supply.  Thus, this building and the High Life Building on East Jefferson are surrounded by sturdy fences, many surveillance cameras and numerous signs warning everyone to stay far away.  This makes it difficult to appreciate the architectural details of these great water plants in metropolitan Detroit.  I infer that considerable investments were made into designing attractive buildings.  Corrado Parducci was commissioned to sculpt decorative elements for this Springwells Building but I have never seen any lucid pictures of his achievements. As of 2011, a former staff member at the Detroit Water and Sewerage Department, Michael Daisy, was preparing a book about Water Works Park.  When published, that book may provide a great deal of interesting information about the history of water service in Detroit.

Date of authorization: 1924
Date of completion: 1935
Architect: Unknown to me
History of the Detroit Water and Sewerage Department:
http://dwsd.org/downloads_n/about_dwsd/history/complete_history.pdf
Use in 2011:  Water treatment plant
Photograph:  Ren Farley; September 29, 2011
Description prepared: October, 2011