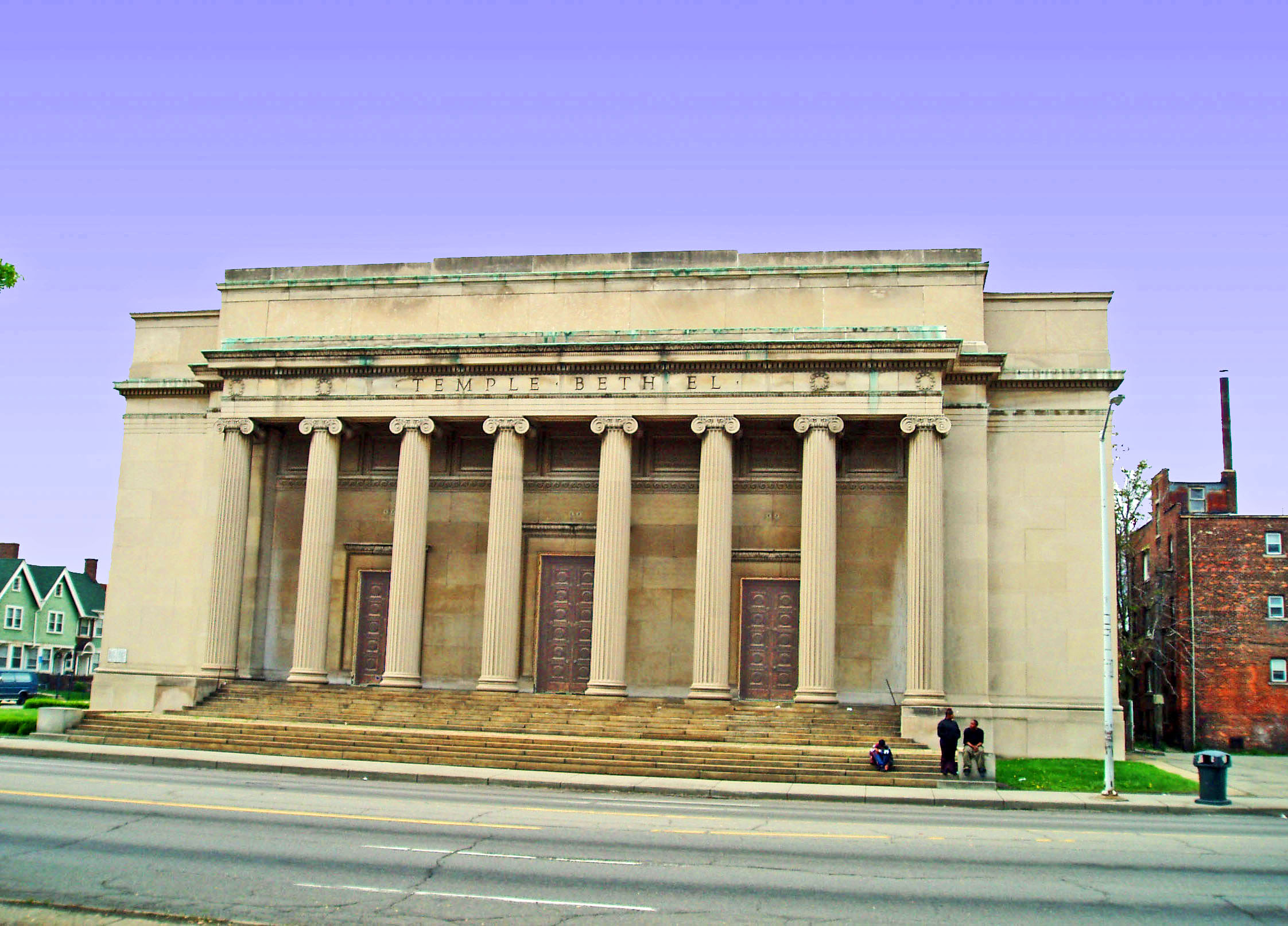 Temple Beth El II/Lighthouse Tabernacle
8801 Woodward at Gladstone in Detroit's Upper Piety Row
In 1850, representatives of 12 German Jewish families met in the home of Isaac and Sarah Cozens to found Detroit's first congregation. An historical marker now sounds on that site in Greektown. This was an Orthodox congregation, but just six years later, they adopted the rules and practices of Reform Judaism. Men and women were allowed to sit together in services where English was spoken. By the early 1870s, they had a temple that stood near what is now the intersection of Washington Boulevard and Clifford. Actually,it was their second temple, both of them recycled churches.
The Jewish community in the city grew and prospered in the late Nineteenth Century. By the late 1890s, they had the resources to build an impressive temple in Detroit's lower piety row. This was the Temple Beth El I designed by Albert Kahn when he was employed by George Mason and Zacharias Rice and located 3424 Woodward near Grand Circus Park. That temple was completed in 1903 and, after several remodelings, now serves as Wayne State University's Bonistelle Theater.
As the Jewish population grew and became financially more secure, they moved away from the crowded neighborhoods surrounding downtown Detroit. Presumably, Jews faced many restrictions in where they could live, although I know of no authoritative study of this residential segregation in Detroit. The elegant Boston-Edison neighborhood and some nearby areas, including the present day Atkinson Historic District, did not proscribe Jewish residents. By 1920, the congregation opted to build a large synagogue close to where their members lived. Member Albert Kahn was selected as the architect. He designed a classical, flat-roofed structure using limestone just as he had with the earlier version of Temple Beth El. The most impressive feature, I believe, is the striking façade facing Woodward. Eight imposing ionic columns create a deep porch that shelters three very large sets of doors. This is the type of building that might appear in a travel poster for Greece if the surrounding areas were very different. Along the Gladstone Street side, you will see eight narrow but very tall windows attractively framed by massive but plain peers. The interior is a vasted doomed space with a slanted floor and wooden pews in a circular pattern. Many of the interior religious acoutrement from the first Temple Beth El were moved to the synagague whose pictures you see here and then moved again to the present building.
Leo Franklin served as rabbi for this congregation for many years, both before and after they moved from 3424 Woodward to 8801 Woodward. He was the city's best known and most outspoken rabbi during that long period when Jews were targeted for discrimination and when many assumed that they were an unassimilatable minority group. He was a friend of Henry Ford. Indeed, Ford made a practice of delivering a new Ford early in January every year to his close friends. Rabbi Franklin was on that list.
After World War II, many Detroit residents sought to purchase attractive homes in the suburbs, a practice strongly encouraged by the federal government's housing policies and the racial change occuring in the city. Many prosperous Jewish residents opted for new homes in the Oakland County suburbs. Many made comments that those suburbs were more likely to welcome Jews than Macomb County or Downriver suburbs. In the early 1970s, the Beth El congregation began building its fourth synagogue. This impressive new one is located far out in the suburban ring at 7400 Telegraph in Bloomfield Hills in Oakland County. The tradition of selection a world-renowned Detroit architect continued since Minoru Yamasaki designed the synagogue presently used by the Beth El congregation.
This building has been owned or used by several groups since the Beth El congre3gtion moved to Bloomfield Hills. For some years, it served as the home for Lighthouse Tabernacle Church. At that time, it took the name Lighthouse Cathedral. In 2008, it was purchased by the Little Rock Baptist Congregation. I believe they intended to turen it into a school but, apparently, have not had funds to accomplish that. They rente3d it to the Citadel of Faith Covenant Church but, by 2012, it served as the home of the Community Church of Christ.
For very impressive pictures of the interior of this synagague and a comparison with the interior of the previous one, please see the marvelously illustrated book cited below.
City of Detroit Local Historic District: Not listed
State of Michigan Registry of Historic Places: P 25,262
State of Michigan Historical Marker: None erected
National Register of Historic Sites: Listed August 3, 1982
Website for Temple Beth El: http://www.tbeonline.org/
Use in 2013: Lighthouse Cathederal is the home of the Community Church of Christ.
Facebook page for Community Church of Christ: http://www.facebook.com/pages/The-Community-Church-of-Christ-Pastor-RA-Cranford/101097296644392
For additional information and pictures, please see: Marla O. Collum, Barbara E. Krueger and Dorothy Kostuch, Detroit's Historic Places of Worship, Detroit; Wayne State University Press, 2012
Photograph: Ren Farley; May, 2005
Description updated: February, 2013
Return to Woodward Religious Structures