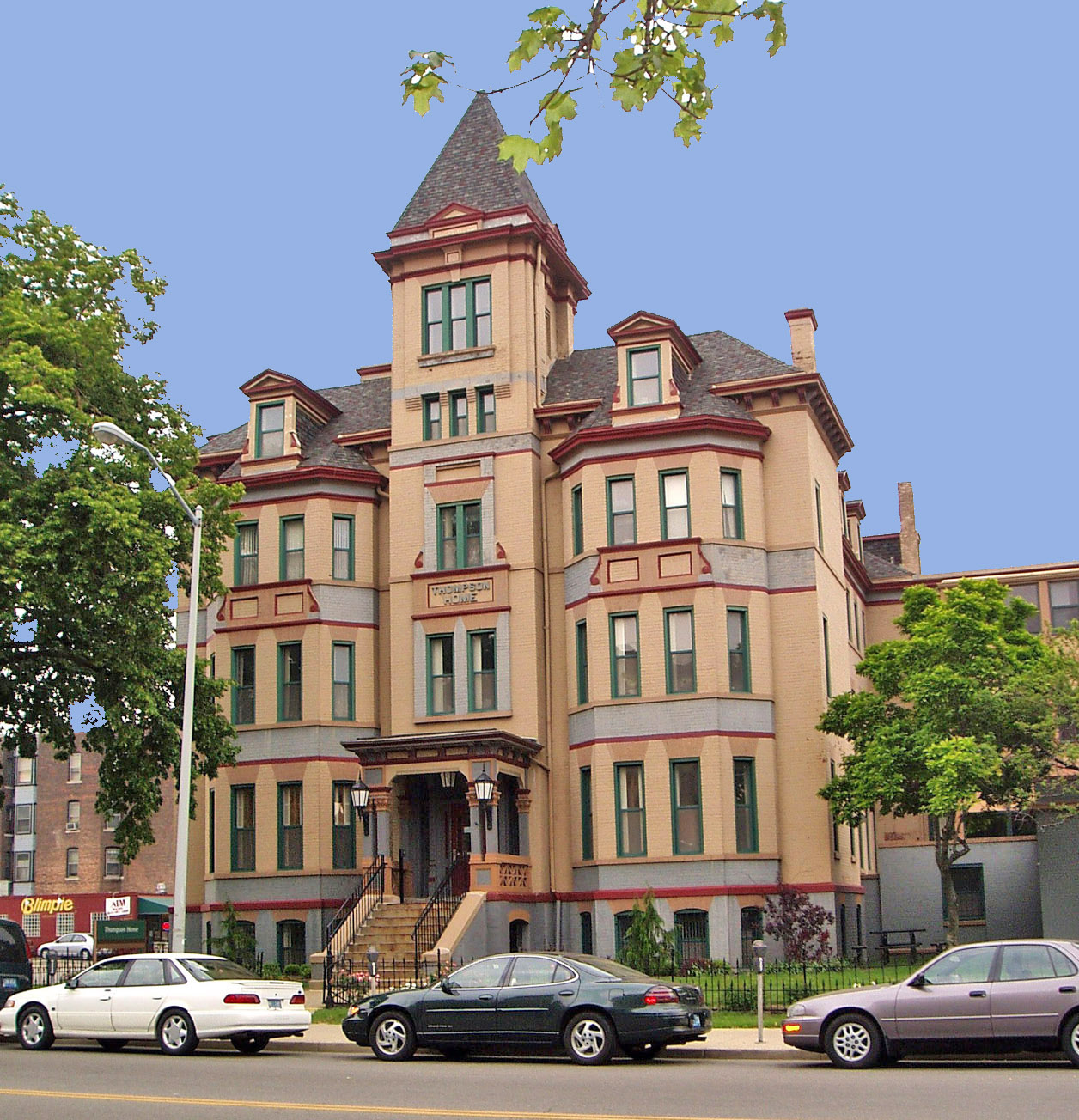 Thompson Home for Old Ladies
Wayne State University School of Social Work
47564 Cass Avenue in the Cass Corridor on the Wayne State campus
near Detroit's Cultural Center

We have come a long way regarding the politically correct use of our language. No retirement community today would select a name such as the Smith Home for Old Persons, but in the 1880s, it was permissible to call the impressive building you see the Thompson Home for Old Ladies.

Prior to the days of Social Security and employer-funded pensions, widows of middle- and upper-class men were at risk of poverty if they could not live with their children. Wealthy Detroit businessman, David Thompson, left his estate to his wife with instructions to establish a charitable institution. Alas, I do not know how David Thompson earned his fortune. Mary Thompson donated $10,000 to build a home for aged Detroit women in 1874 but, I infer, no construction started until she purchased land at the corner of Cass and Hancock where this home is now located.

Mary Thompson commissioned one of the city most influential architects, George Mason. He designed a spacious structure—60 feet by 90 feet—with private rooms for forty mature women. This is a rectangular four-story home designed primarily in the Queen Anne or Victorian style that was extremely popular in that era. The front is dominated by a five-story, 80 foot tower that protrudes slightly from the face of the structure. On either side of the commanding tower, there are three-story bay window protrusions. Note the symmetry of the windows at the different levels. You see an impressive stone carving proclaiming the building's name and an artistic use of bricks. The painted bandcourses add appeal at several levels of this building.

Architect Mason apparently did not pay much attention to the limited locomotion of older women and was not constrained by the Americans with Disabilities Act. He included an attractive entryway, but it is one with numerous steps leading to an impressive balustrade stone porch with its own embellishments. I don't know if George Mason had this building painted upon its completion, but that was common for brick buildings erected in this era.

For quite a few decades, I believe this was among the most prestigious retirement homes for prosperous Detroit widows. Sun rooms were added in 1914 and living quarters for the staff were built in the 1950s. Mr. and Mrs. Benson Ford donated funds so that a five-bed infirmary could be constructed in 1964.

Institutional living of this sort became less popular with old women after World War II. In addition, improvements in health and in the wealth of retirees lessened the popularity of institutions such as this one. Its location in the Cass Corridor must have reduced its attractiveness after Detroit's 1967 racial riot. The number of residents declined, and in 1977, Mary Thompson's Home for Old Ladies closed. Wayne State acquired the property the next year, remodeled it, and in 1980, it became home to that University's School of Social Work.

If you walk through that area of Detroit, you will see some marvelous examples of the architectural styles that were popular in the last decades of the Nineteenth Century, including this home for old ladies, the Old Main Building of Wayne State on West Warren, numerous homes in the West Canfield Historic District and homes in the Prentis-Warren Historic District and homes on Hancock. This is a great area for a stroll on a warm day.

Date of Construction: 1884
Architect: George D. Mason
Architectural Style: Queen Anne and Victorian
City of Detroit Local Historic District: Not listed
State of Michigan Registry of Historic Sites: Listed: November 14, 1974
State of Michigan Historical Marker: Erected October 1, 1976. This is visible at the northeast corner of West Hancock and Cass Avenue
National Register of Historic Places: Listed June 3, 1976; Building # 76001041
Use in 2007: Wayne State University School of Social Work
Photo: Ren Farley, June, 2004
Description prepared: February, 2007