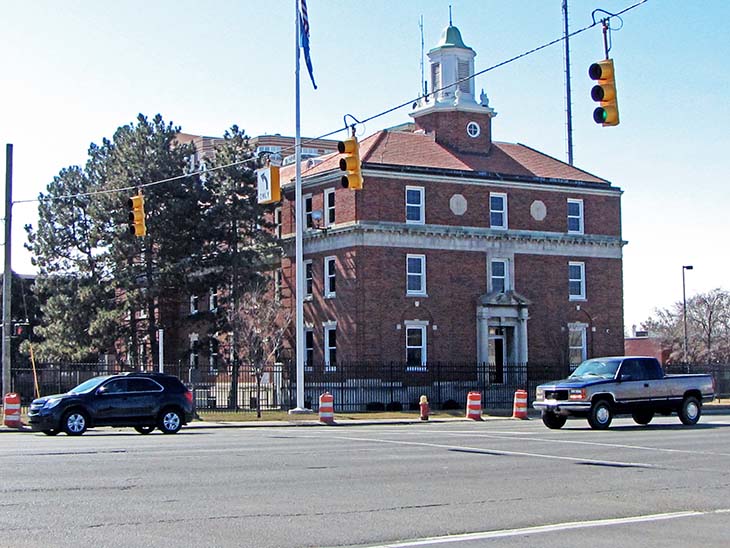 United States Immigration Station/Rosa Parks Federal Building
333 Mount Elliott Street at East Jefferson

The serious recession than began in autumn 2008 provoked many to think and read about the Great Depression that began when the stock market crashed in October, 1929.  It took a year or so for economists to fully appreciate what was happening to the nation's economy.  By mid-1930, it was clear that unemployment was soaring as the nation's mills and factories drastically reduced output.  Perhaps no city was more affected by the Depression than Detroit since vehicle production in 1932 was about one-quarter what it was in 1929.  Often it is assumed that Congress and President Hoover's administration did almost nothing to address the massive economic crisis.

That is an oversimplification.  Even before the era of Keynesian supremacy that started in the late 1930s, government fiscal officials and members of Congress knew that federal spending could stimulate a sagging economy and reduce unemployment.  The Federal Employment Stabilization Act of 1931 appropriated approximately one hundred million dollars for the construction of federal buildings throughout the United States.  This jobs program was subsequently expanded by Congress and, by 1934; about 1300 new buildings were under construction or planned in almost 1100 communities.  Throughout Michigan, we find post offices that were constructed by this program or by subsequent Depression era programs in which the federal government funded infrastructure to meet public needs and reduce unemployment.  The United State Immigration Station at East Jefferson and Mount Elliott is one example of the benefits of Congressional funding early in the Depression decade.  Another nearby one is once magnificent but now idle
R. Thornton Brodhead Naval Armory at 7600 East Jefferson designed by Detroit architect William Buck Stratton.

This is a three-story Colonial Revival style building constructed of brick with limestone trim.  It was completed in 1933 but was substantially remodeled in 1962 when the entrance was shifted from the north side facing East Jefferson to the west side.  A two-story steel framed glass and aluminum sided structure was added in 1962 and the former boiler house that dated from 1933 was converted into a garage, apparently at that time.  When this structure was built, the federal immigration service was responsible for border patrol, customs and immigration.  I believe they also played a role in attempted to curtail the flow of illegal alcohol into the United States from Canada during prohibition.  During the Prohibition years, Detroit had the largest force of border patrol officers in the country primarily because of the thriving business of importing alcohol from Canada. 

From the mid-Nineteenth Century until 1939, the Department of the Treasury was responsible for the design and construction of all federal buildings.   James Wetmore, who is listed as the architect for this building and the Theodore Levin Federal Courthouse in downtown Detroit, is the nation's most famous architect who was not really an architect.  He began his career with the Department of Treasury in 1895, early a law degree and, by 1917, was the chief administration in that Department's office of architecture. He served for eighteen years in that job and his name may be on the cornerstone of as many as 1700 federal buildings.   Presumably, the Department of Treasury contracted with local architects for the design of buildings.  I have read that Robert O. Derrick, who is created with helping to design the Theodore Levin Federal Courthouse in Detroit, also designed this structure.

This land has been owned by the federal government since 1857.  In that year, a small military hospital was constructed on this site.  The first superintending physician was Zen Pitcher, a doctor who spent his career in the military.  He was twice elected mayor of Detroit and served in that office from 1841 through 1843.  Pitcher also served as president of the American Medical Association and brought that organization's 1857 annual convention to Detroit which suggests that Detroit had pretty satisfactory rail connections with the East Coast at that time.  Dr. Pitcher was also a Regent of the University of Michigan.  A prominent Ann Arbor street and a professorship at that university's medical school bear his name.  I do not know when the federal government closed that facility.

This building should not be confused with the newly constructed and much larger Michigan-Detroit field office of the United State Citizenship and Immigration Service located nearby at 11,411 East Jefferson.  This is a 58,000 square foot office building that opened in 2008.
Architect: James A. Wetmore
Architectural style: Late 19th or early 20th century Colonial Revival
Date of Completion: 1933
Date of Renovation: 1962
Architects for renovation: Gaffes and Rosette
City of Detroit Designated Historic District: Not listed
State of Michigan Registry of Historic Sites: Not listed
National Register of Historic Places: Listed May, 2013; # 13000322
National Park Service information about this building: http://www.nps.gov/nr/feature/places/13000322.pdfPicture:  Ren Farley; March 24, 2015
Description prepared: April, 2015

Return to Government Buildings

 Return to Homepage