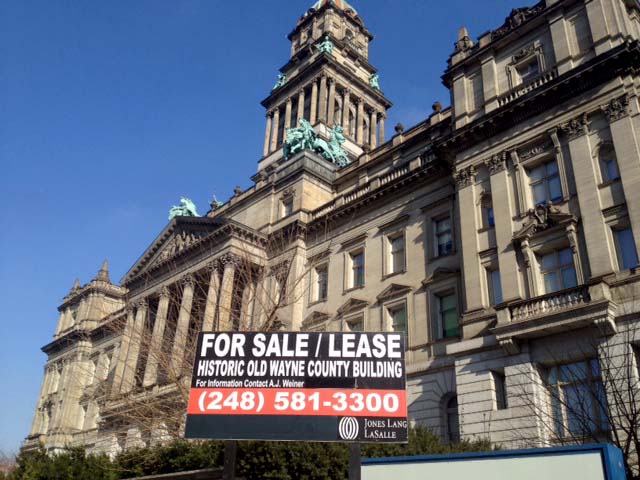 Wayne County Building/Wayne County Courthouse
600 Randolph facing Campus Martius in downtown Detroit


In 1900, there were only five counties in the United States with larger populations than Wayne County. Officials decided that an appropriate building was needed, perhaps to symbolize the county's size and importance. The county's offices were then located in Detroit's old city hall. For much of the Nineteenth Century, important governmental buildings such as those in Washington and in many state capitols, were designed borrowing concepts from the architects of classical Greece or Rome. By the Sixteenth Century, a different style of baroque architecture emerged in Italy and is well illustrated by St. Peter's in the Vatican State. For a brief period toward the end of the Nineteenth Century, governmental officials in North America commissioned major buildings in the baroque style. These are notable for their classical elements but much more for their very ornamented exteriors and elaborately decorated interiors.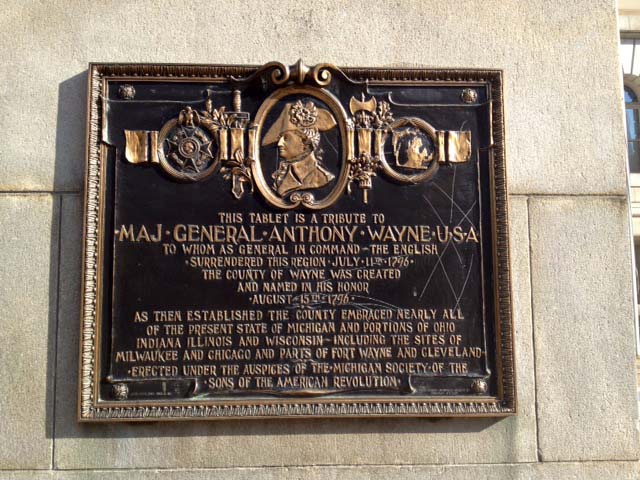 The building you see is a five-story structure composed of buff Berea limestone from Ohio with granite trim. There is a raised basement story with a granite exterior. Then there are four additional floors. A belt of sandstone distinguishes the first above-ground story from the second. A broad flight of stairs facing Campus Martius leads to the entryway which is sheltered by a massive two-story portico with impressive Corinthian columns. You notice a four-tiered tall central tower with numerous columns and a copper dome. At the front, there is a large pediment which was carved by the sculptor, Edward Wagner. This represents General Anthony Wayne on his horse conferring with Indians. This appears to be a beneficial portrayal of General Wayne. Wayne did negotiate treaties and peace settlements with the Creek and Cherokee tribes in Georgia after the Revolutionary War. However, after the Western Indian Confederacy came to dominate Ohio and Indiana and defeated some American troops in 1791, President Washington sent Mad Anthony Wayne to conduct war against the Shawnees and Miamis. It was Wayne who commanded United States troops at the decisive Battle of Fallen Timbers in Maumee, Ohio on August 20, 1794. The Indians were loosely allied with the British. Wayne's conquest of the Indians helped propel the British to turn Detroit over to American troops led by Lieutenant Colonel Jean François Hamtramck on July 11, 1796. Wayne's defeat of the Indians cleared the way for Europeans to settle in much of the present-day Midwest and explains why his name was given to many locations.

The sculptor, Edward Wagner, migrated to Detroit from Germany in 1871 and studied with Detroit's most accomplished sculptor of that day, Julius Melchers. Wagner won many commissions for wood and stone sculptures inside and on the outside of churches. His work was also prominent at the Columbian Exposition in 1893 and the World's Fair exposition in St. Louis twelve years later.

Toward the dome, there are two quadrigae done by J. Massey Rhind. A quadriga was the horse-drawn chariots pulled by four horses used in the chariot races of ancient Rome. They became symbols of victory, fame and triumph. Sculptors almost always portray a woman driving the quadriga and that is what Rhind did for the Wayne County Building. These two, done in copper, represent Victory and Progress. The same sculptor created four statues of female figures at a higher level representing Law, Commerce, Agriculture and Mechanics. Massey Rhind, an immigrant from Scotland, worked from New York City from 1889 into the 1930s. He won very many commissions to design large statues of many major American figures and prospered from the interest in commemorating Civil War generals and Civil War battles. He was among the most productive and well known sculptors of his era. So far as I know, his only works in the Detroit area are those on the Wayne County Building. The quadrigae were removed in 2007, refurbished at a cost of almost $600,000 and reinstalled in 2009.

I have not seen the interior of this building but I believe that it is decorated with as much detail as the exterior.

When this building was constructed, there was much controversy about its cost and size. Apparently many taxpayers were reluctant to see so very much money spent on a county office building. In addition, the newspaper carried many stories suggesting mismanagement of the monies used to construct it.

In 1984, the county sold this building to a private firm with the understanding that they would refurbish the old structure and then rent it back to the county. The restoration was completed in 1987. In 2009, however, county administrators announced that it was very expensive to maintain this building so they purchased the Guardian Building in downtown Detroit for $14 million and, shortly thereafter, moved many county offices there. For a brief period of time, I believe they rented part of the building pictured to a day care center here but, by 2014, it was an empty building awaiting a buyer. In the summer of 2014, the building was sold for $13.4 million to a real estate developer from New York, 600 Randolph SN LLC. In late 2016, they announced their intention to spend $2.6 million to renovate the structure, presumably for commercial purposes.

Architect for building: John Scott of John Scott and Company
Date of construction: 1898 to 1902
Architectural Style: Beaux-Arts Classicism
Sculptor of quadrigae: John Massey Rhind
Sculptor for pediment of portico: Edward Wagner
Architects for 1987 restoration: Smith, Hinchman and Grylls and Quinn Evans
Website describing history of the building: http://historicdetroit.org/building/old-wayne-county-building/
City of Detroit Designated Historic District: Not Listed
State of Michigan Registry of Historic Sites: P 25,279 Listed September 17, 1974
National Registry of Historic Sites: Listed February 24, 1975
Use in 2016: Vacant building apparently awaiting a renovation
Photographs: Diane Scarpace; January, 2014
Description updated: December, 2016