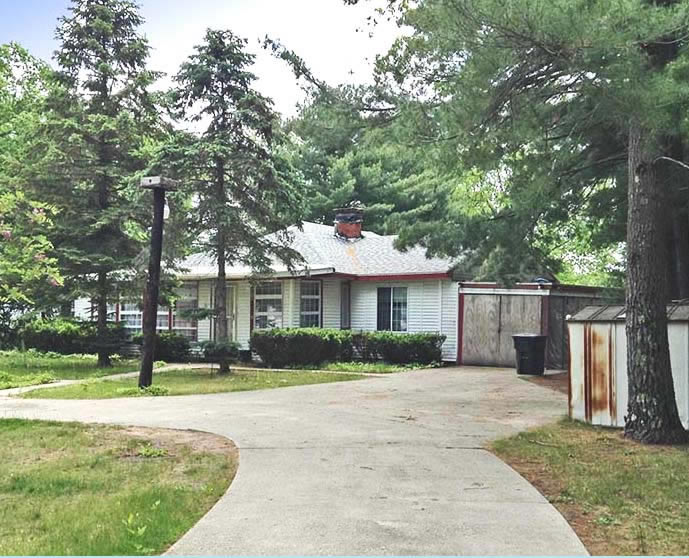 The Alice and Doctor Daniel Hale Williams Residence
15712 Lake Drive in the Idlewild Community
Lake County, Michigan

Daniel Hale Williams was born in Hollidaysburg, Pennsylvania in 1856.  He was the most prominent African-American physician of his era and the second surgeon in the United States to do what we now call open-heart surgeon.  This successful development of Idlewild as the nation's leading summer resort for affluent blacks was due, in part, to investments made by Dr. Williams.

Dr. Williams's father was a free black employed as a barber.  His mother was a woman of Scotch-Irish ancestry.  When Williams was only nine, his father died. There were six children and his widowed mother was unable to support them so she sent Daniel Williams t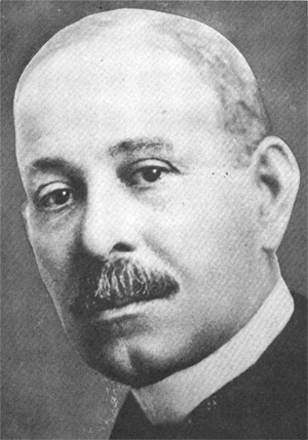 o apprentice with a cobbler in Baltimore.  Apparently, he did not enjoy that arrangement so he ran away so that he could resume living with his mother.  By this time she resided in the Rockford, Illinois.  She moved frequently so Williams grew up in a variety of towns.  He began to work as a barber while living in Janesville, Wisconsin.  There he became fascinated with the work of a local physician and apprenticed with him for two years.  He decided that medicine was the career he wanted to pursue so he entered Chicago Medical School in 1880—the predecessor of the current Northwestern University Medical School.  He graduated in 1883 and began practicing in Chicago. He then discovered that the Jim Crow rules of that city prevented him from practicing in any of the city's hospitals.  In 1891, he established an integrated hospital, Provident, that survived for 96 years. 

In July, 1893, a man—James Cornish—entered Dr. William's hospital because he had been stabbed in the chest.  Dr. Williams operated upon Mr. Cornish one day after the stabbing and repaired his heart.  Fifty-five days later the patient was declared recovered in this era before modern anesthesia or blood transfusion. Indeed, Dr. William's client survived for another fifty years. Henry Dalton, a surgeon in St. Louis, was the first physician in the United States to perform an open-heart operation when, in 1891, he repaired the heart of a patient who had also been stabbed in the chest.  Similar to Dr. William's patient, the St. Louis patient made a full recovery from the innovative surgery.

In 1862, the federal government established Freedman's hospital in Washington to serve former slaves and African-Americans.  This institution survives to the present as the Howard University Hospital.  In 1893, President Grover Cleveland appointed Dr. Williams to head that facility.  It had fallen into decline.  Dr. Williams is credited with restoring the reputation of that hospital and instituted a program to train nurses.  In 1898, he returned to Chicago where he lived until he moved to Idlewild about 1920.  In 1895, Dr. Williams was one of the founders of the National Medical Association—the professional organization of African-American physicians.  In 1913, he was one of the founding members of the American College of Surgeons and, at that time, the only black member.

In 1898, Dr. Williams married Alice Johnson, a Chicago school teacher.  Her father was a well-known sculptor, Moses Jacob Ezekiel.  Born in Richmond, Virginia in 1844, Ezekiel was the first Jewish graduate of the Virginia Military Academy.  Ezekiel spent much of his career in Germany and Italy where he won many accolades for his artistic achievements.  Alice Johnson's mother was a mulatto maid who never married Moses Ezekiel.  Alice Johnson, apparently, remained in contact with her rather prominent father throughout their lives.

Alvin Wright, Adelbert and Erastus Branch and Dr. Wilbur M Lemon were land developers and investors who saw an opportunity to create an upscale summer resort for African Americans in Lake County Michigan.  The Branches, I believe, were from nearby White Cloud Michigan and had developed a summer resort area for whites in Newaygo County.  Dr. Lemon was from Chicago.  Lake County prospered when there was timber to sell but, by 1900 or so, the trees had been cut down and the county's economic future looked bleak.  Tourism was a possible option.   The investors knew of an area about three miles east of Baldwin, Michigan where there were gentle rolling hills and seven attractive lakes.  This was a 2,700 acre tract.  A railroad had owned the land but failed to pay taxes on it, presumably because all the valuable timber was removed.  In 1912, the investors established an Idlewild Resort Company and began to acquire land although the process moved slowly for lack of capital.

As early as the summer of 1912, some prosperous blacks from Chicago came to Idlewild but I think few plots were sold until the summer of 1915.  That year there was a festival in Chicago oriented to blacks celebrating f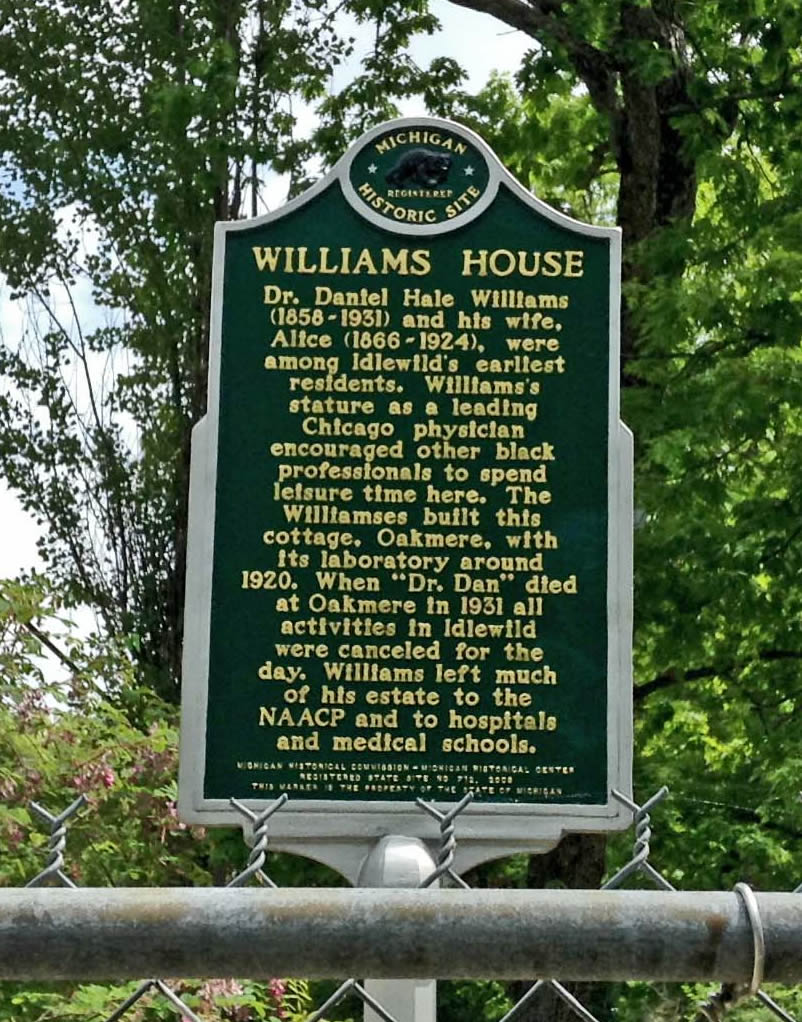 ifty years since the end of the Civil War.  The Idlewild Resort Company hired salespeople—exclusively blacks—to market their lots.  That summer or shortly thereafter, Dr. Williams and his wife bought property in Idlewild but I do not believe they began building the home you see until a few years later.  Some blacks were skeptical about buying property in a black resort founded and promoted by white developers.  I presume that when the prominent Dr. Williams made an investment, some of that anxiety disappeared. 

Shortly after buying property for his bungalow, Dr. Williams bought a large portion of land in Idlewild and named it the Daniel Hale Williams subdivision.  He then sold his plots to a number of prominent individuals, including Charles Chestnut—well known novelist, Lemuel Foster—the president of Fisk university; Oscar DePreist—the Chicago politician who, in 1928, became the first black elected to Congress after the Reconstruction Era; and Mary McCleod Bethune—the educator who founded Bethune-Cookman College in Daytona Beach.

The home you see here has likely been remodeled since Dr. Williams had it built about 1920.  He selected a high location overlooking the lake and cut down only those trees needed to allow him to see the lake.  He took great pride in his skills as a flower raiser and, apparently, entered his flowers into competitions.  In addition to the home, he added a workshop, a garage and a chicken coop.  He created a small park near his home with a white picket fence, erected a small pavilion in the area and named it Oakmere Park.  He also established a small medical clinic in Idlewild.  Dr. Williams—or Dr. Dan as he was known—was a popular figure in the Idlewild community.

I think that Dr. Williams suffered a stroke and retired from the practice of medicine in about 1925.  He continued to live here until his death at age 77 in 1931. The decisions and investments of Dr. Williams were key reasons for the success of Idlewild and its development into the nation's Black Eden.  Another page on this website provides additional information about the Idlewild community.   A State of Michigan Historical Marker commemorates Dr. Williams here at the home he built in Idlewild.  The State of Pennsylvania put up an historical marker in Hollidaysburg to commemorate his place of birth.

Date of original construction: 1915 to 1920
Architect: Unknown to me
Style: Bungalow
Use in 2015: Residence
Biographies of Dr. Williams:  Helen Buckler, Daniel Hale Williams Negro Surgeon (New York: Pittman, 1954).
J. Leonard Kaye, Life of Daniel Hale Williams (21st Century Publishers, 1997)
History of Idlewild: Lewis Walker and Ben C. Wilson, The Idlewild Community: Black Eden (East Lansing: Michigan State University Press, 2002)
State of Michigan Registry of Historic Sites:  Listed Site S0712
State of Michigan Historic Marker: Place in front of home in 2009
National Register of Historic Places: Not listed
Photograph of bungalow at Idlewild:  Ren Farley  June 3, 2015
Picture of Dr. Williams:  Obtained from Google images
Description prepared: June, 2015

Return to Race in Detroit's History

Return to Historic Residences

Return to Homepage