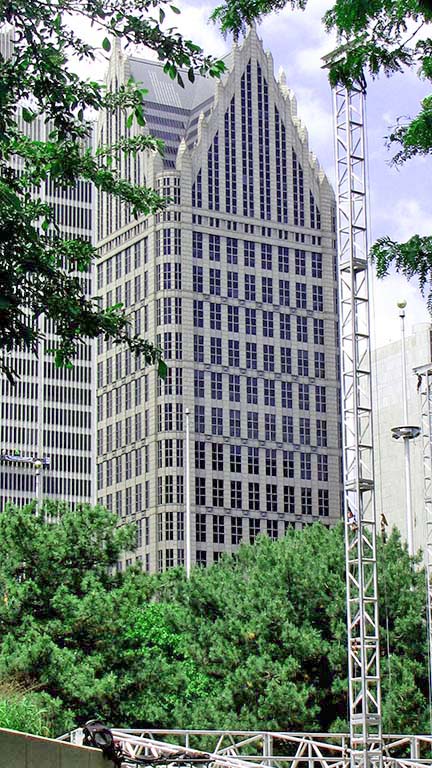 Comerica Tower/One Detroit Center
500 Woodward Avenue at Larned
This skyscraper is distinguished from all other tall buildings in Detroit by its neo-gothic spires.  As Eric Hill and John Gallagher describe them in their book AIA Detroit, these are Flemish inspired spires.

Comerica Bank has a long history in Detroit, but for most of its complicated history, it was known by other names.  Elon Farnsworth, born in Vermont in the Eighteenth Century, came to Detroit in 1822 where he studied law with Solomon Sibley whose home stands a few blocks away at 976 East Jefferson.  Farnsworth was elected to the territorial legislature in 1834.  The state's first constitution called for a chancellor.  Farnsworth was the first and only chancellor Michigan has had.  He served as Michigan's Attorney General from 1843 to 1845 and was a member of the first voter-elected Board of Regents of the University of Michigan in 1852.  In 1840, Farnsworth helped to establish the Detroit Savings Fund Institute.  Just 22 years later, this fiscal outfit became the Detroit Savings Bank whose name still graces the arch over the State Street entrance to the Chamber of Commerce building.  The Detroit Savings Bank survived the Depression but became the Detroit Bank in 1936.  That firm sought to expand so they merged with two or three city and suburban banks in 1953 to become the Detroit Bank and Trust Company.

Federal and state laws prohibiting interstate banks ended in the early 1980s.  Detroit Bank and Trust changed its name to Comerica Bank in 1982 and acquired or affiliated with banks and credit card companies in Florida, Illinois, Texas and California.  After the firm grew, they commissioned architects Philip Johnson and John Burgee, in 1990, to design the impressive Comerica Tower at Woodward and Larned.  Comerica Bank moved their headquarters into the building you see pictured above in 1993, but in 2007, they announced they were moving their governing center to Dallas where they were building a new office tower.  Comerica intends to cease using office space in this building by 2012.

Philip Cortelyou Johnson was among the nation's most influential architects and architectural critics of the Twentieth Century in the post-World War II era.  Born in Cleveland in 1906, he studied philosophy at Harvard.  However, he had the opportunity to take several trips to Europe while an undergraduate and became fascinated with the architecture there.  In 1928, he met the innovative Ludwig Mies Van der Rohe whose work is commemorated in an historic district that bears his name located less than a mile from Comerica Tower. 

In the early 1930s, Johnson affiliated himself with the Museum of Modern Art in New York and sought to support himself by promoting modern architecture and commenting about it.  Apparently, that was not a financially rewarding career so he became a journalist, went to Germany and covered the rise to power of the National Socialists.  Apparently, that was not completely rewarding either, so he returned to the United States and enlisted in the Army.  After serving for some time, he appreciated his real calling and enrolled at the Harvard Graduate School of Design to become an architect.  By the late 1940s, he began his very distinguished career.  Along with collaborators, especially Mies Van der Rhoe in the early years and John Burgee in the later years, he designed a large number of modern skyscrapers.  He broke away from the classical tradition that is illustrated in Albert Kahn's nearby First National Bank Building completed in 1922.  His structures also differ from the stark modernist style illustrated by Minoru Yamasaki's Michigan Consolidated Gas building, completed in 1965, that is almost directly across Woodward from Comerica Tower. Note the rounded corners that Philip Johnson designed for Comerica Tower conveying a sense of gentleness.  All other downtown skyscrapers have right angles for their corners.

If you visit most of the large cities in the United States today, you can find one or two tall structures that Johnson designed between about 1960 and his death in 2005.  These include the Seagram and American Telephone and Telegraph edifices in New York, the Republic Bank Center in Houston, the IDS Center in Minneapolis and the Pittsburgh Plate Glass building in that city.  Many of the buildings he built were originally named for a bank, and with the restructuring of banks in this country, their names have changed often.  He also designed an array of educational buildings including the College of Architecture for the University of Houston and churches, including the Crystal Cathedral in Garden Grove California and the Chapel of St. Basil at the University of St. Thomas in Houston.  The John Fitzgerald Kennedy Memorial in Dallas was designed by Johnson.

He is very well know for the innovative design of one of his earliest works—The Glass House that he designed  in  1949  as his own residence and located in New Canaan, Connecticut.  For a brief period, Johnson distinguished himself from other architects by his extensive use of glass.  Quite rapidly, others designers realized the value of incorporating much glass into their design. Philip Johnson lived well into his tenth decade and never ceased to be creative.  One of his more provocative designs is the slanted Puerta de Europa office tower that appears to be held in together by straps. Located in Madrid, this project was completed after his ninetieth birthday.

So far as I know, Comerica Tower is the only Philip Johnson building in Michigan.  We are fortunate to enjoy it and to compare it to the many other architectural styles that are on display in downtown Detroit.
Architects: Philip Johnson and John Burgee
Date of Completion: 1992
Architectural style: Post Modern with Neo Gothic spires
Use in 2010: Office Building
State of Michigan Registry of Historic Sites: Not listed
National Registry of Historic Places: Not listed
Photograph: Ren Farley; September 11, 2010


Return to Commercial Buildings

Return to Homepage