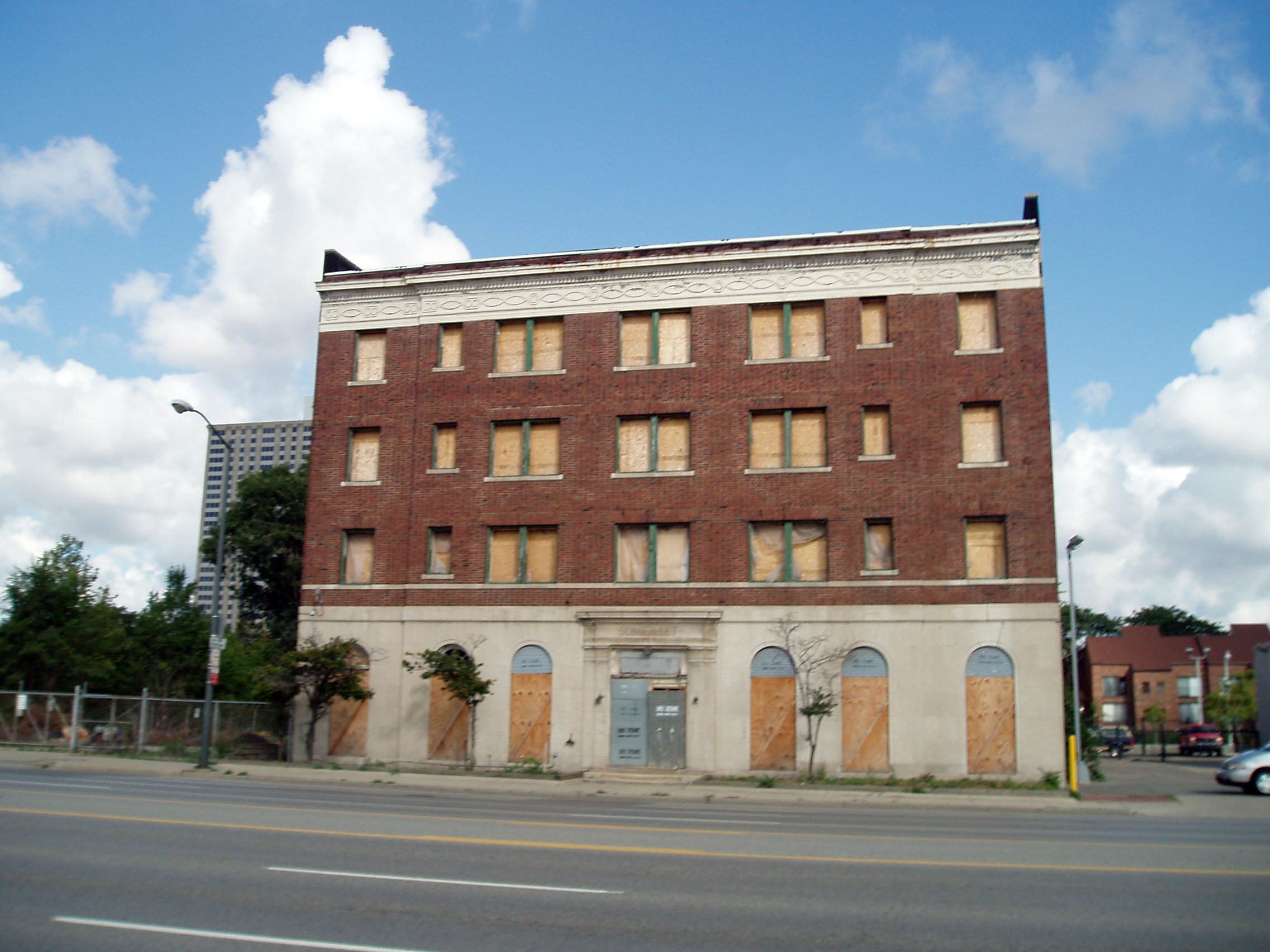 Somerset Apartments
1523 East Jefferson
This is one of 27 residential structures included in the National Registry of Historic Places' East Jefferson Residential Thematic Resource, a set of structures approved for listing in November, 1985. Compared to other large cities on the East Coast, Detroit has relatively few apartment buildings. Residential land, generally, was less costly in Detroit than elsewhere, so when the city's population growth boomed from the early 1900s through 1929, many single-family and duplex homes were built. City officials tried diligently to build a subway before World War I, again during the Depression when federal dollars flowed generously and then again when Mayor Coleman Young played a key role in getting the Democratic Party to nominate Georgia governor, Jimmy Carter, for the presidency. Each time, Detroit failed. A subway might have promoted the construction of large apartment building near the stops.
There were, however, small- and moderate-sized apartments built throughout the city, although primarily in locations with good street car connections to downtown. In the mid Nineteenth Century, a Belgian immigrant, Francis Palms, began promoting East Jefferson Avenue as a desirable place to live. As a result, there are attractive historic mansions along this street including the Charles Trowbridge Home (1380 East Jefferson); the Croul-Palms Home (1394); the Christopher and Emily Cicotte Moross Home (1460) and the James Burgess Book Home (8469). After about 1903, short, and a few tall, apartment buildings were also located here, many of them now listed on historical registers.
The one you see pictured above was completed in 1922 in the Georgian style. It is basically a four-story rectangular building facing East Jefferson with arms stretching away from the central corridor, meaning they are parallel with East Jefferson. The spaces between the arms allow for light. There are attractive architectural details, although they need to be refurbished. You see appealing, arched first-floor windows on either side of a trabeated entrance. The entrance façade was designed with red brick along with a limestone face first story on East Jefferson. At the roofline, you see a dentiled cornice. From time to time, Detroit's newspapers and newsgroups focused on the city, report rumors of developers or city agencies that have plans to sell, or redevelop structurally sound buildings. When I took a picture of this building, a woman walked up to me and asked if I intended to buy it. She was discouraged when I told her I was not going to buy it. Clearly, she was hoping that someone would revitalize the Somerset Apartments and improve her neighborhood. I have never read about any investors' purported plans to convert the Somerset Apartments into condominiums, even though it has a very desirable location close to the Mies van de Rohe Historic District and the city's central business district.
Architect: Unknown to me
Date of Construction: 1922
Architectural Style: Georgian
Use in 2008: Unoccupied building awaiting remodeling or demolishment
City of Detroit Designated Historic District: Not listed
State of Michigan Registry of Historic Sites: P25,249
State of Michigan Historic Marker: None put in place
National Register of Historic Places: Listed November 9, 1985
Photograph: Ren Farley, Summer, 2008
Description prepared: March 2, 2009
Return to Multi-Family Housing
Return to East Jefferson Avenue Residential Thematic Resource